Victorinox, maker of the legendary Swiss Army Knife, has launched a new super-secure memory stick that sounds like something right out of Mission: Impossible. Called the Victorinox Secure, the new USB drive comes in 8GB, 16GB, and 32GB sizes, sells for $75 to $270, and provides a variety of security measures including fingerprint identification, a thermal sensor, and even a self-destruct mechanism.
Victorinox says that during the Secure's launch event in London, the company offered a team of professional hackers close to $150,000 if they could get past the Secure's security measures. The prize money went unclaimed, Victorinox says, and the company did not identify the hackers.
It's not the first secure USB; both the SanDisk Cruzer and Kingston Technology DataTraveler Vault Privacy USB stick have been on the market for some time. Neither has the extras that the Victorinox Secure boasts.
A USB Stick Ethan Hunt Could Love
Victorinox says the Secure is "the most secure [device] of its kind availab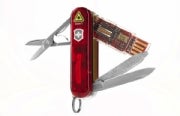 le to the public." The Secure features a fingerprint scanner and a thermal sensor "so that the finger alone, detached from the body, will still not give access to the memory stick's contents."
There's also a self-destruct mechanism. Victorinox offers no explanation how this works, only saying that if someone tries to forcibly open the memory stick it triggers a self-destruct mechanism that "irrevocably burns [the Secure's] CPU and memory chip."
Victorinox says the device uses the Advanced Encryption Standard 256 to protect your data as well as its own proprietary security chip.
Being a Swiss Army Knife, the Secure also comes with a variety of other features including an LED mini light, retractable ballpoint pen, blade, scissors, nail file, screwdriver, and key ring.
The device was launched last Thursday at Victorinox's Bond Street location, according to a Victorinox sales representative.
Connect with Ian on Twitter (@ianpaul).