Vimperator (free) adds a new control interface to the Firefox browser that mimics commands from the Unix text editor Vim.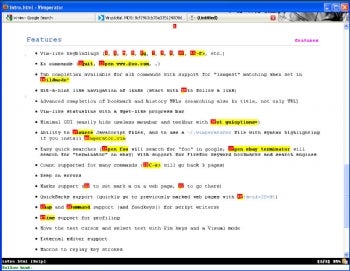 Learning Vim, and the vi editor upon which it's based, is something of a techie rite of passage. Once you know it, you can fly through text using only keyboard commands at a speed that will give your mouse an inferiority complex. But while powerful, vim is about as user-unfriendly as it gets. Even basic movement is unintuitive and the commands must simply be memorized.
Programmers, system administrators, and other techies who already know Vim will find that Vimperator allows for cruising around Web pages using familiar keystrokes, such as j and k to scroll up and down by one line, or ctrl-f or ctrl-b to scroll forward or backwards a page. Going back a page and other browser-specific functions get new controls like :back, and an innovative "hint" system for following links will have you speeding to new pages. You'll also find different modes, just like you do in Vim.
In addition to adding new commands, Vimperator makes wide-ranging changes to the way Firefox looks. By default, it hides the browser's menu bar, navigation bar and bookmark toolbar. The bookmarks display changes as well, to a spare list of URLs and descriptions suitable for quick sifting with keyed commands.
If you know and love Vim, you might well love the well-designed Vimperator. If you instead stand firm for the Emacs text editor, check out KeySnail.