The Wall Street Journal is reporting that Apple may have a Verizon iPhone in the works.
According to the paper's unnamed sources, Apple is developing two new iPhones–one that will debut this summer (presumably on AT&T), and one that features CDMA capability; the technology used by Verizon. Different companies are said to be developing the new iPhones. Hon Hai Precision Industry Co., the company that produced the previous iPhones, is reportedly manufacturing the one that will debut this summer, while Pegatron is believed to be responsible for the iPhone with CDMA capability.
Most U.S. mobile phones use one of two cellular network standards: CDMA (Code Division Multiple Access) or GSM (Global System for Mobile communications). Verizon and Sprint both use CDMA, while AT&T and T-Mobile operate on GSM. GSM is the global standard for cellular networks.
According to the Wall Street Journal, a person "familiar with the situation" said that Pegatron is scheduled to start mass-producing the CDMA-equipped iPhones in September, though it's unclear when they'll be made available.
Rumors of a Verizon iPhone are nothing new–in April 2009, Verizon CEO Ivan Seidenberg hinted that Apple might be willing to work with Verizon in the future, on the 4G (fourth generation) network (this was also reported in the Wall Street Journal). Other rumors (reported by USA Today in April 2009) suggested that the Verizon iPhone might be available as early as 2010.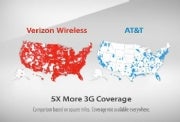 A Verizon iPhone would be great news for consumers and Apple alike. Apple would benefit, as Verizon is currently the largest wireless provider in the United States with a customer base of 91 million people. As for consumers, well, AT&T has long been a thorn in the side of iPhone customers, mainly because of its network issues (people in high-traffic areas such as New York City and San Francisco often report lack of service). That said, AT&T's network has improved in the past year, with average 3G download speeds of 1410 kilobits per second (Verizon, by contrast, featured an average 3G download speed of 877kbps).
Contacted for comment, an Apple rep would only restate they "don't comment on rumors and speculation." Verizon Wireless had not responded to a request for comment at the time of this publication.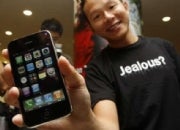 A Verizon iPhone may still just be a pipe dream, though–the Wall Street Journal hasn't offered up any substantial sources, simply citing "people briefed on the matter" and "people familiar with the situation." Still, Yukari Iwatani Kane, co-author of the article, has previously reported some Apple rumors in the Wall Street Journal that turned out to be fairly accurate–so maybe that grain of salt doesn't have to be quite so big.
If there was a Verizon iPhone–would you switch?