Google has a bold strategy to tackle Android's biggest problem: that the OS is available in too many versions, spread across a range of devices. In a bid to end the fragmentation, Google will attempt to carve major features out of the OS into downloadable updates, according to Engadget .
The Android army is not equal – it has four different OS versions (1.5, 1.6, 2.0 and 2.1) spread across around 20 devices, and some phones that are not even available yet (such as Sony Ericsson's Xperia range) will come with outdated versions of Android. That's confusing for consumers, and it seems Google got the message.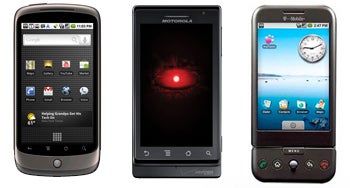 Quoting "people whose words carry weight", the Engadget report says that Google will start detaching many Android standard apps and components from the main OS, and will make them downloadable through the Android Market, similar to how it treats the Google Maps app right now.
The move is said to start with the next iteration of the Android OS, code-named Froyo, and will continue through Gingerbread (yes, the Android team names each OS version release after a desert).
What does this mean for users? For one, as soon as new features are released, users themselves will be able to access update more quickly–in weeks, if not months–instead of waiting for the device manufacturer or wireless carrier to filter the updates down.
Of course, Google's Android de-fragmentation strategy is just speculation at this point, but it makes sense. There already are several manufacturers who customize various Android releases (HTC Sense, SE Timescape), so there has to be a better way to deliver core applications updates to users.
However, detaching apps like Contacts, Mail, or the browser would deliver updates to those apps only. Features such as the new app drawer on the Nexus One would still be available only through a proper OS update, so this would solve only half of the problem.