My wife's laptop suffers from a seriously annoying problem: Sometimes print jobs get stuck in the queue. I'm not sure if this is the result of a driver issue or the fact that she's using a Wi-Fi connection to the printer–could be both.
Even more vexing, Windows won't let us delete a stuck print job, which blocks subsequent items from printing. (Talk about something that should have been fixed back in XP days, Microsoft.) Usually the only solution is a reboot, and no one should have to endure that kind of a hassle just to print a document.
Salvation! Stalled Printer Repair is a free utility that detects and repairs stuck print jobs. Actually, it purges any stuck jobs it finds, meaning you should be able to resume printing again right away.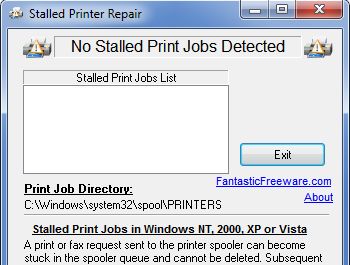 What I especially like about SPR is that there's nothing to install (if you download the Zip-file version, that is): Just run the app, click Purge Print Jobs, and you're done. That makes this a perfect addition to the flash drive you use for system-rescue utilities. (You do have one, right?)
If you've been plagued by stuck print jobs, I definitely recommend giving Stalled Printer Repair a try.