At a Glance
Expert's Rating
Pros
Strong general performance for its class
Cons
Unusual design hampers accessibility
Hefty asking price
Our Verdict
The Optiplex 780 USFF offers competitive performance in a space-saving design, but Dell is asking a bit much for what it delivers.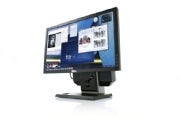 Business-class desktop PCs like the Dell Optiplex 780 USFF receive slightly different consideration during our review process. Though we weren't about to go easy on this minitower, certain elements of our usual desktop PC reviews deal more with home and home-office concerns. In this case Dell has tried to focus on business needs, as the 780 USFF takes a distinct approach to the shape of a business-friendly PC. Unfortunately, it stumbles a bit along the way.
The first glaring issue is the price. At $1339 (as of March 30, 2010), a desktop such as this one–designed for business or not–is a tough pill to swallow. It isn't a poor performer: The 780 USFF's 3.0GHz Intel Core 2 Duo E8400 CPU and 4GB of DDR3-1066 memory did much to push this system to an excellent score of 116 on our WorldBench 6 suite of tests. But we can name lots of systems that match or top the general performance of Dell's machine for half the cost. Consider, for instance, the Gateway SX2840-01, a $560 minitower with a WorldBench 6 score of 118. And despite its slightly lower WorldBench 6 score of 101, the eMachines ET1831-07 is available for as little as $390.
While the 780 USFF's E8400 processor sports Intel's vPro Technology and can make securing PCs decidedly simpler for network administrators, institutions with tighter pocketbooks can likely find more cost-effective ways to secure their machines. Given that the 780 USFF comes with only a 250GB hard drive, Dell seems overly reliant on the machine's space-saving design and the IT-friendly functionality to justify the price tag.
The included 22-inch Dell LCD contributes to the price, as well. The model we tested featured Dell's "All in One solution," a hybrid stand that encapsulates the minitower in a bid to save space. Though the stand accomplishes that much, it can also make upgrading (or even accessing the rear of the case) a bit difficult.
The display stand aligns the PC parallel to the monitor; the cables running between the desktop and the display (as well as between the desktop and its connected devices) create a Medusa's head in the rear (really, the side) of the machine. Seven USB ports are on the system, as well as one eSATA port, one VGA port, and one DisplayPort connector. That's a good diversity of options for a business-class rig–they're just trickier to access here than on a conventional desktop setup.
We also found the bundled display a bit underwhelming: Colors appeared somewhat dull, with subpar saturation and "true whites" that were actually a bit gray. Given this desktop's business focus, the limited capabilities of the 780 USFF's integrated graphics aren't intended to be much of a selling point. That said, don't expect to play any games during your off-hours with this machine (and when you're on the clock, don't count on performing any graphics-intensive work).
Additionally, the system's included Windows 7 Home Premium 32-bit operating system nullifies the benefit of the 4GB of memory. Remember that your computer needs to run a 64-bit operating system if you want to use the full breadth of your installed RAM beyond 3.3GB or so (the typical cutoff for a 32-bit OS).
The mouse and keyboard packaged along with the 780 USFF are perfect for business use in that they deliver no additional features or buttons. Don't expect to find any DPI toggles or application-launching buttons on either of these input devices.
While the Dell Optiplex 780 USFF delivers strong performance, the monitor-mounted system sacrifices accessibility to achieve its space-saving footprint. And then there's the cost. Corporate shoppers are likely to appreciate the IT-friendly vPro technology, and smaller businesses will benefit from the computer's space-saving design and 90-percent-efficient power supply. Even if you're buying your own display, however, competing desktops with similar (or stronger) configurations and performance can be had for a lot less.