At a Glance
Expert's Rating
Pros
Strong price-to-performance ratio
Lots of storage space
Cons
Lacks gigabit ethernet networking
Cluttered internal wiring
Our Verdict
Offering capable performance and a stellar price tag, the eMachines ET1831-07 may not top the charts, but it's a great value.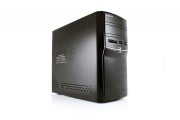 It's common knowledge that the lower the cost of a desktop system, the more likely it will be a machine that cuts corners to achieve that price. You don't often find a system that performs as admirably as its price is low. The eMachines ET1831-07, a $390 (as of March 30, 2010) midsize-tower PC, is just such a desktop. It offers substantial speed, decent upgradability, and a hefty chunk of storage space for a price that's nearly $200 less than that of competing budget PCs.
Even though the ET1831-07's Intel Pentium Dual-Core E5400 CPU is more than a year old now, its 2.7GHz of processing power–coupled with the system's 4GB of DDR2 memory–helps the ET1831-07's performance. On our WorldBench 6 benchmark suite, with a score of 101, it fell short of a number of budget PCs on our charts–but all of those systems cost far more than the ET1831-07. The closest competition to the ET1831-07, the Gateway SX2840-01, delivered only a 17 percent performance boost for a 44 percent increase in cost.
Makers of systems in this price range are pretty open to doing anything under the sun to shrink the price tag even more. It's nice to see that eMachines didn't tighten the belt on the ET1831-07's storage capacity. The system's single 750GB drive represents an above-average amount for the budget PC category in general, and certainly an eye-opening amount compared with the paltry 160GB to 300GB of storage that one typically finds in desktops this inexpensive.
Still, cuts had to be made somewhere. The ET1831-07's integrated graphics failed to produce anything near playable frame rates on our Unreal Tournament 3 benchmark, on any of the test resolutions or quality settings. Simply put, don't expect to do much gaming on this eMachines midsize tower. And don't expect to do much high-speed network activity either: The system's Fast Ethernet connection is an unfortunate downgrade from the gigabit interface of most desktops.
The ET1831-07's included connection options aren't bad, but they're a bit inadequate when compared with what you get from other desktop PCs in this category. The rear of the system sports only four USB ports, a VGA output, a Fast Ethernet connection, and integrated 7.1 surround sound. Note the omission of any next-generation connectivity options, such as FireWire, eSATA, or HDMI. The offerings on the system's front are even more anemic, consisting of a scant two USB connections and a multiformat card reader.
The system's glossy black case is a nice touch, and conceals the included DVD burner. In addition, the lit-up logo on the front of the PC adds an appealing bit of color to an otherwise monochromatic desktop. The interior of the case isn't quite as pretty. Though the system has room for an additional 5.25-inch device and two hard drives, the slightly cluttered wiring job and the need to undo screws could give novice upgraders pause. The area around the motherboard, which is a little easier to work with, is just as free for upgrading as the system's front half. Due to its lack of included add-in cards, the ET1831-07 delivers a wide range of potential upgrade paths with its open PCI Express x16 slot, PCI Express x1 slot, and two PCI slots. As before, however, make sure you have a screwdriver at the ready: You'll need it to perform any card installations on the ET1831-07.
I wasn't expecting a superexpensive keyboard and mouse to be tossed into the mix, so I wasn't shocked to see that the included input devices are both generic in form and look. They offer no additional features save for three volume-control buttons on the keyboard.
Does that lessen my enjoyment of this particular budget PC? Not at all. Aside from its omission of a gigabit ethernet port, I couldn't find any unpleasant surprises lurking in the eMachines ET1831-07. In fact, I'm quite surprised by this system's ability to deliver powerhouse general performance and excellent storage capacity, given its cost. You just don't find such attributes in a sub-$400 system–other than this one, that is.