At a Glance
Expert's Rating
Pros
Solid performance for its Wolfdale platform
Above-average storage capacity
Our Verdict
Acer's Veriton X480G does a pretty good job of keeping up with the best budget PCs, but tough competition stands between this system and top honors.
The Acer Veriton X480G is a pretty good budget PC. At $599 (as of March 30, 2010), the X480G is aimed at small business users, and is priced well for the general performance it delivers–but is it really an example of a solid value overall? When pitted against a consumer-classed PC, the $559 Gateway SX2840-01, the X480G doesn't quite achieve desktop glory. And though the $40 price difference separating the systems might not seem like much, every little bit matters in the world of low-cost, low-profile desktop PCs.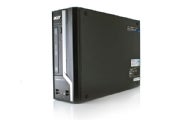 If you're looking at the specs on paper, the X480G seems to have a leg up with its 3.06GHz Intel Core 2 Duo E7600 (Wolfdale) processor versus the Gateway SX2840-01's 2.93GHz Core i3-530 (Clarkdale) CPU. However, the differences between the CPU architectures became apparent when we compared the two desktops' results in our WorldBench 6 suite of tests. Even though the Acer's processor has a faster clock speed than the Gateway's CPU does, the X480G's WorldBench 6 mark of 120 was not a significant improvement on the SX2840-01's score of 118.
Admittedly, the SX2840-01's Core platform allows it to run 6GB of RAM, double the amount that the X480G offers; you'll also find a 1TB hard drive in the Gateway machine, versus the Acer's 640GB of total storage. Nevertheless, the processors were the biggest contributing factors in our tests, as the larger amount of RAM and the bigger hard drive in the Gateway each offer a more-specific benefit. The RAM gives you more overhead for dealing with complex, multitask activities such as editing images and encoding movies simultaneously. And more capacity on a hard drive equals more room for data.
Both systems fared poorly on our graphics tests. The Veriton X480G failed to offer playable frame rates on our Unreal Tournament 3 benchmark at any test resolution or display-quality setting. While gaming performance isn't much of a consideration on Business platforms, the X480G also isn't very well suited for intensive graphics-related work. The SX2840-01 managed to produce roughly four times the frames per second on our benchmark runs–but even then, its 13.9-fps result was hardly anything to brag about (1920 by 1200 resolution, high quality).
The Veriton X480G offers little diversity in its connection options. The back of the system has six USB ports and an eSATA port, but that's as advanced a connection as you'll find on this system. The rest of the connections, including a DVI port, a VGA port, integrated stereo sound, and a gigabit ethernet port, fail to wow. The system's front provides four USB ports…and that's it. In contrast, on Gateway's desktop system you'll find the three major external connections–USB, eSATA, and FireWire–among others (including HDMI).
The chassis, entirely black aside from a single gray stripe running vertically up the front, isn't particularly aesthetically appealing; the compact system looks more like a little, monochrome box than a sleek addition to one's desk. That said, the exterior appearance is far better than the scene on the machine's interior. While the internal cabling is about as good as it gets for a budget PC of this size, the lack of overall upgradability–limited to a single PCI Express x1 slot and a PCI Express x16 slot–is a bit disappointing. What this system saves on space, it sacrifices on future-proofing.
As I expected, the mouse and keyboard shipped with our test X480G were generic and dull. Both devices are wired, and offer no extra buttons for any function beyond what you'd find on a conventional mouse or keyboard. I almost took off points for the ugly, black, boxy shape of the X480G's mouse–it's borderline obtrusive in its design.
Given the Veriton X480G's status as a Business PC, the desktop includes a few business-centric applications centered around keeping your PC secure. The Embassy Security Center gives users access to the machine's Trusted Platform Module (TPM) security chip. Once the TPM is activated through the system's BIOS, users will be able to create secure virtual drives to protect and encrypt their data. The Security Center also offers the Private Information Manager, which allows users to create secure profiles, storing sensitive information — such as credit card numbers and shipping addresses — to automatically fill out forms online.
Administrators will also appreciate Acer's eLock Management, which allows them to lock down the PC's components, or give read only access to particular drives. Authorization can be assigned to particular users, and you'll be able to set a timer that will automatically lock your devices if you step away from your PC for an extended period of time.
The SmartBoot application will launch a pre-selected list of programs every time you start your PC, while the PowerSaver application offers a pair of preset profiles, letting you choose between maximizing system performance, or minimizing power utilization.
Of most interest to potential upgraders is the QuickMigration application: much like Windows 7's Easy Transfer, the QuickMigration feature will allow you to transfer user data and settings from an older PC, to the X480G. While Windows 7's Easy Transfer makes use of external usb drives, flash drives or the Easy Transfer cable, Acer's QuickMigration can be completed by plugging an Ethernet cable and installing a client onto the PC you're transferring data from.
The Acer Veriton X480G has much going for it, in terms of its general performance, svelte figure, and general capabilities. The Veriton Control Center application suite offers a slew of security enhancement features, coupled with the inclusion of Windows 7 Professional, over Home edition.A small business on the hunt for an inexpensive PC would do well to consider it.
But they should also weigh the merits of non-business class PCs, which may lack a native security platform, but offer superior features and functionality for the end user. If you're working with highly sensitive data, third party applications won't suffice, and looking to limit your costs, Acer's Veriton X480G is a safe bet. Barring that, if your needs aren't as demanding, and you're comfortable using third party tools or Windows 7's innate security features, the Gateway SX2840-01 simply manages to achieve more, for less cash.