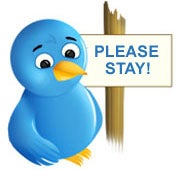 Twitter's ready to stop the quitters. The social media service rolled out a shiny new home page this week, and its goal is simple: to help new users understand what the site's all about and keep them coming back for more.
Twitter's New Home Page
Twittter's revamped home page, officially unveiled on Tuesday, brings a dizzying array of dynamic content to the site's main entrance. Beneath the header, you'll now see a ticker-style scroll of the latest trending topics — who wouldn't want to read about Justin Bieber, after all? — along with a handful of highlighted users and their most recent tweets. Not quite as good as a who-should-you-follow flowchart, but pretty darn close.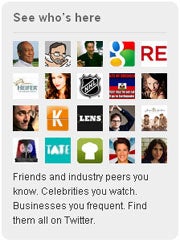 (Before you start repeatedly refreshing the page to see if you've made the list, you should know that it's a "random sampling," according to Twitter. Granted, when I looked a few minutes ago, the "random sampling" included Bill Cosby, Wyclef Jean, Alyssa Milano, Rainn Wilson, the Jonas Brothers, and Twitter co-founder Evan Williams — but hey, I guess that's how the dice happened to fall. At least there weren't any social media experts.)
The other noteworthy feature of Twitter's new home page is its "Top Tweets" section, which showcases a scrolling list of user-sent updates. This may be the most intriguing aspect of the updated Twitter HQ: The tweets are tied to a specific account, @toptweets, that allegedly follows every single person on the service. (The aforementioned social media experts try to do that, too, but for totally different reasons.)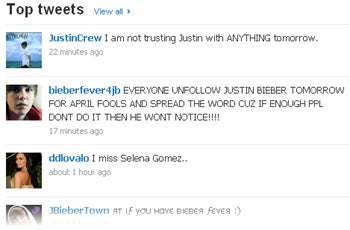 Tweets that make it into the @toptweets' "favorites" section end up being displayed on the home page. And anyone's updates could make the cut, at least in theory: The "Top Tweets" are selected purely by algorithm, Twitter says, with new ones popping in every few seconds.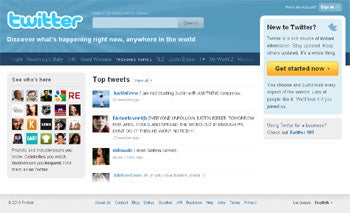 What's that really mean? A guy with one of the coolest titles in the world — Abdur Chowdhury, Twitter's chief scientist — went into a bit more detail with the crew from Search Engine Land:
"The algorithm looks at all kinds of interactions with tweets, including retweets, favorites, and more to identify the tweets with the highest velocity beyond expectations," he says. "This is intended to highlight tweets from all users and doesn't favor those with large follower counts."
Sweet fancy Moses, we're all gonna be famous.
Twitter's Home Page Target
Ego-surfing aside, the truth is that Twitter's new home page won't have a whole lot of impact on those of us already using the service (that includes you, tweeting astronaut T.J. Creamer). Most regular tweeters tend to use more feature-rich third-party apps such as TweetDeck and Seesmic. Or, if we are using the Web interface, we're signed into our own accounts and thereby not seeing the general Twitter home page.
For first-time visitors, it's a different story. Twitter's an acquired taste, to say the least; studies have found as many as 60 percent of Twitter users end up abandoning their accounts within a month of joining. Some say it's due to a misunderstanding of how Twitter works; others argue that the service seems too shallow upon first glance. Either way, with its updated look, Twitter hopes to better show off the positive aspects of its network and help outsiders find something that'll draw them in.
"People who internalize the value of Twitter understand the power of this simple medium," Twitter's Doug Bowman explains. "But it hasn't been easy to make that value transparent or obvious for curious folks coming to Twitter for the first time."
For the Twitter team's sake, let's just hope that infamous fail whale doesn't start circling anytime soon.
JR Raphael is a PCWorld contributing editor and the co-founder of eSarcasm. He's on both Twitter and Facebook; come say hello.