The air is alive with information, beaming down from space. You need only the right tools to retrieve it. SkyGrabber is a low-cost application ($41, 15-day free trial) that can help you tune a satellite dish for the best reception of satellite internet service or television programming–but is capable of far more than just that. The program, used in conjunction with a satellite receiver card and a dish, can save television shows and/or any files transmitted from the satellite, in a kind of continuous data-slurping mode.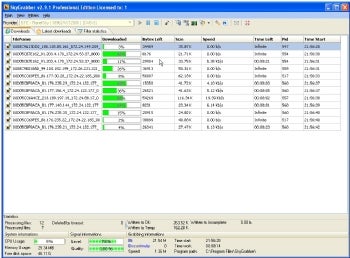 SkyGrabber requires the use of certain brands of satellite tuner cards–devices which cost between $80 and $150–but fortunately, the list of supported devices (periodically updated at the bottom of the program's page) is fairly extensive, including virtually all of the major manufacturers of these devices: Cards made by DVBWorld, TBS/QBOX, Azureware, TechniSat, TechnoTrend, Genitech, and TeVii are all supported using the program's built in media engine. I found the setup extremely easy with my DVBWorld card, which the software detected automatically. That said, if you're using Windows 7, you might have to load the custom (included) SkyGrabber driver for your particular card before you can begin. Of course, the program also assumes you have that satellite card attached to a dish on some exterior wall or roof, pointed at the sky.
Once you install the software, you can be up and running in minutes. SkyGrabber immediately scans the list of installed hardware for a supported card, then prompts you to choose a satellite from a dropdown list. Virtually all the world's regional satellite networks appear in that list, arranged by longitude. If your satellite provider is not listed, you can manually add the provider through a New Provider dialog. As soon as you've chosen a network, the program displays various signal quality meters that, if you're up on your roof (or, more sensibly, using a motorized dish rotor for) aiming the dish, will let you point at the strongest signal source.
A single button-click will initiate a download of anything that comes over the transom: image files, Flash videos, TV signals–whatever files happen to be in transit from satellite to ground. My initial experience was that my computer was overwhelmed with data files beaming down from the satellite. It helps if you set up some filters before you start; these will help staunch the incessant flow of data and limit it to, for instance, the particular data MIME types you want to capture and save. As the files are pulled off the air, SkyGrabber keeps a list of completed downloads in a Latest Downloads tab.
You can even watch television programs through the card at the same time as using the software, an amazing feat when you consider how much of a nuisance it is to be able to tune two different satellite TV stations in different rooms, at the same time. When the program is running, it becomes apparent just how much data is constantly beaming to Earth at any given moment, just hanging there waiting for you to get it.
Note: This program is priced at 30 Euros. The USD price shown here reflects the exchange rate the day this review was posted.