While many display makers have high hopes for 3D in the living room, Sharp already wants to bring 3D to your pocket with displays for mobile devices.
The company plans to launch the 3D displays this year, aimed at cellphones and other small devices, with no special glasses required. A screen that Sharp showed to reporters at a press conference in Tokyo measures 3.4 inches across the diagonal and is touch-sensitive.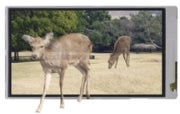 I hate to be a naysayer, but the way this technology works makes me skeptical that it will go mainstream. Users must hold the display at a specific distance and angle — 30 centimeters away and head-on — to see the 3D effect. According to IDG News Service, the image blurs if the angle isn't right, at a certain point becoming unreadable. Also, still images appear slightly blurry no matter what, though animations fare better.
The problem is that cell phone users and handheld gamers don't rigidly hold their handsets at a fixed distance and viewing angle. They look at the screen while reclining on a couch or laying in bed, and they move around to get comfortable. Trying to get a 3D illusion will quickly become tiring, and people will switch to the 2D mode that Sharp's displays thankfully include.
No products have been announced, but Nintendo is working on a 3D handheld gaming console, tentatively named the Nintendo 3DS. Sharp wouldn't say whether Nintendo is among the companies who have inquired about the mobile 3D displays, but Sharp already provides 2D screens to the console maker for its existing Nintendo DS.
If Nintendo is working with Sharp's technology, there is some hope for it, if only because Nintendo's on a roll lately with silencing critics who dismissed the Nintendo DS and Wii as cheap gimmicks. I look forward to being proven wrong.