Even when we make the stupidest errors while using our computers, phones, or whatever, the canned message that informs us of our blunder typically adopts a tone that ranges from completely matter-of-fact to sweetly understanding.
But the messages often end up sounding comically understated or euphemistic, glossing over the fact that the problem was the result of a PICNIK ("Problem In Chair, Not In Computer") error (AKA "ID-10T" error).
In other instances, however, the system seems to be trying to cover its own (silicon) rear end, either by downplaying the severity of the reported fault or by subtly shifting the blame to the user.
Either way, our devices don't always give it to us straight when something goes wrong.
Following is a collection of some of tech's most obviously euphemistic error and warning messages, followed by what we think our devices would say if they were a little more, uh, human.
IVR (Interactive Voice Response) Systems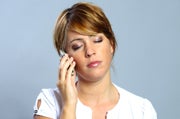 Perhaps my favorite example comes from my Sprint cell phone. When I get distracted and fail to respond to a prompt issued by Sprint's IVR (interactive voice response) system, the recorded female voice offers this timeless bit of advice to me: "Always remember to press the number of the command you wish to select."
I understand her dilemma. She wants to get me going again, but she doesn't want to yell at me for spacing out, and she has to say something. Here's what I think she really means: "Hey, dude, are you still there? Did you nod off again? Wake up!"
Euphemism #2
Customer Support IVR: "Please hold for the next available agent."
Translation: Please hold while we connect you to a script reader in India.
GPS Systems
Especially while travelling, I depend on the turn-by-turn directions that my GPS system provides to tell me where to go. The system's female voice is friendly and matter-of-fact (even as she mispronounces street names). When I fail to obey her directions, she calmly says, "Recalculating route."
But she wasn't always so nice. Before her software upgrade awhile back, she was, well, kind of a grouch. Her directions sounded terse under the best of conditions, and when something went wrong–when I strayed from the route she had planned for me–she said "You have gone off course" in a tone so sharp that it sounded scolding.
What I think she really meant: "Hey, you missed the turn!! What are you doing?! Do you know how long it took me to calculate that route?! Pay attention next time!!"
PC Operating Systems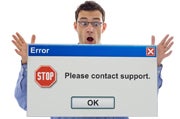 Euphemism #1
Error message: "Please insert a readable CD in the drive."
Translation: You forgot to put the CD in, genius.
Euphemism #2
Error message: "Windows cannot find the file."
Translation: I keep telling you that this file does not exist. Three times I told you. Now you've made me catch this stupid exception–and I'm angry.
Euphemism #3
Error message: "Windows has encountered an error and must shut down."
Translation: Now you've done it.
Euphemism #4
Blue Screen of Death (BSoD) message: "Check for viruses on your computer. Remove any newly installed hard drives or hard drive controllers. Check your hard drive to make sure it is properly configured and terminated. Run CHKDSK /F to check for hard drive corruption, and then restart your computer."
Translation: Oh sh*t.
Euphemism #5
Eror message [Windows XP]: "Error copying File or Folder: A system call that should never fail has failed (While copying a file to the desktop)."
Translation: Sometimes the instability of this OS surprises even us.
Euphemism #6
Warning message: "Buffering video stream."
Translation: Upgrade your slow DSL line, buddy.
Euphemism #7
Error message: "Kernel Panic."
Translation: PANIC, NOW.
Euphemism #8
Error message: "Non-System disk or disk error."
Translation: If you don't have a backup, put your head between your legs and kiss your data goodbye.
Euphemism #9
Error message: "Microsoft Word has stopped working."
Translation: You have stopped working.
Euphemism #10
Error message: "The system cannot end this program because it is waiting for a response from you."
Translation: It may look to you as though the program froze all by itself, and then you had to press Control-Alt-Delete to get to the Task Manager in order to shut it down; but as far as we're concerned, the program is just patienty waiting for you click a button in a dialog box so it can go on about its business. Hey, too bad you can't reach (or even find) that dialog box!
Euphemism #11
Warning message: "An unidentified program wants access to your computer."
Translation: Dude, you know that program you spent the last 15 minutes downloading–the one where the "remaining time to download" gauge jumped nonsensically back and forth between "3 minutes," "1 day, 14 hours," "less than a minute," and "3 hours"? And then you specified a hard-drive location and folder to save it to? And then you visited that folder, double-clicked its icon, and wanted to install it so that you could get on with your day instead of sitting in front of a damn computer for another 10 minutes? Remember? Well, I just want to make sure you really want to install it. It didn't come from me, which is why you needed to download it. And you may have just been kidding around when you performed all those previous actions, and it's hard for us computers to detect humor of any kind. So seriously, no joking now, do you want to Cancel or Allow the installation? This is totally your last chance to cancel, except for all the opportunities you'll get once our super-helpful Install Wizard takes over the process. Still want to Allow it? That's cool. Just wanted to make sure. I love you, bro. I've totally got your back, security-wise.
Web Browsers, Web Sites
Euphemism #1
Error message: "401: Unauthorized"
Translation: The Website you're trying to access wants to be paid. Otherwise, no dice.
Euphemism #2
Error message: "The Website you are trying to access is not a trusted site. Do you want to continue?"
Translation: Hey there: takin' a walk on the wild side tonight, huh buddy? OK, stop and think. You don't want to catch something down here do you? Probably better to just turn your browser around and head back to the suburbs."
Euphemism #3
Error message: "408 Request Timeout"
Translation: The server you're petitioning has become bored with your long-winded request and will no longer talk to you.
Euphemism #4
Warning message: "A plug-in is required to view this content."
Translation: Our Website is so special that you have to stop what you are doing and install some special software to fully experience it.
Euphemism #5
Error message: "Our online app has failed to launch. Please check to make sure browser plug-in X is up-to-date."
Translation: Our crack coders still haven't figured out how to make our app work on anything other than Firefox 3.5.102 running under Ubuntu. But maybe if we can convince you it's your fault, we can still get our next round of funding.
Euphemism #6

Warning message [NetNanny]: "You are not allowed to access this Website."
Translation: Your mom doesn't want you gambling, looking at porn, cyberbullying, spying, shopping, flirting, blackmailing, or chatting with prison inmates at this site.
Printers
Euphemism #1
Message: "PC LOAD LETTER"
Translation: I'll be needing some paper to get cracking on that print job, ace.
Euphemism #2
Warning message: "The following ink may have run out. Replacing the ink tank is recommended."
Translation: Sure we know the tank's still half full of ink, but why put off 'til tomorrow what you can do today? Besides, you may have noticed that the longer you use a tank of ink, the less often we get to sell you a new one–and basically, if we could convince you to replace your ink cartridges every week, we would.
Euphemism #3
Warning message: "We recommend that you use genuine [insert printer brand here] ink cartridges. The use of other products may affect your print quality and could result in printer damage."
Translation: We didn't sell you the printer at cost just to see you go elsewhere for replacement ink. The profit is in the ink–our ink! So don't even think about stepping out on us.
Xbox
Euphemism #1
Error message: "System Error: Contact Xbox Customer Support."
Translation: Game over.
Euphemism #2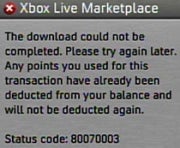 Error message [Xbox Live Marketplace]: "The download could not be completed. Please try again later. Any points you used for this transaction have already been deducted from your balance and will not be deducted again."
Translation: Our downloads are sorta hit and miss. But don't give up: Try again later–who knows, you might get lucky. Either way, we get paid.
iTunes
Euphemism #1
Error message: "Attempting to copy to the disk 'iPod name' failed. The disk could not be read from or written to."
Translation: That device was not made by Apple; therefore, we decline to communicate with it. We suggest that you join the rest of the human race and buy yourself an iPod.
Euphemism #2
Error message: "This computer is not authorized to play 'Billie Jean'. Would you like to authorize it?"
Translation: You are trying to play a file that some other iTunes user bought from us. If you want to hear this song, stop being so cheap and go buy your own copy from the iTunes store.
YouTube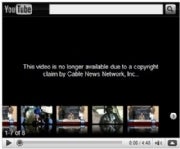 Warning message: "The video you are requesting is currently unavailable."
Translation: The owner of the copyright on the video you want to watch wants to be paid. No free lunch, Charlie. If you are the owner of the video, well, it may be time to "lawyer up."
Software

Warning message: "The licensing subsystem has failed catastrophically. You must reinstall or call customer support."
Translation: You don't really own this software, do you?
IM
Status message: "marksullPCW is idle."
Translation: Mark Sullivan is watching TV, sleeping, or gazing out the window, or has left the building. One thing's for sure–he ain't working.
Contributing authors: Steven Gray,Tim Moynihan, Jason Cross, Patrick Miller, Ed Albro, and Steve Fox, all of PCWorld. Special thanks to Dave Greenbaum of DoctorDave Computer Repair in Lawrence, Kansas for providing several funny "tech euphemisms."