I have had my iPad for a little over 24 hours now. I have customized it with the various iPad apps that I think will add value to my new tablet device–one of which is Pages, the Apple iWork word processing program.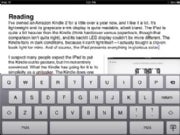 I have used Microsoft Word pretty much since Microsoft Word has existed.I used to use Lotus AmiPro in my more rebellious anti-Microsoft days, but eventually I joined the mainstream and have relied on Microsoft for my word processing ever since. Unfortunately, despite optimistic rumors it seems doubtful that Microsoft will be developing any iPad version of its Microsoft Office software any time soon (although I would recommend Microsoft seriously consider it).
So, here I am typing away on the touchscreen virtual keyboard of the iPad, writing an article to sort of test the waters–both in terms of Pages' ability to function as a proxy for Word on the iPad, and of the iPad to function as a proxy for my notebook PC. Assuming the experiment works, it would be nice to be able to use the lightweight tablet with four times the battery life rather than dragging my laptop around every time I leave home.
One of the first things I did to check out the capabilities of iWork Pages was to add a relatively complex Word .doc file via iTunes to sync up with Pages in the iPad. I was presented with a box listing the many fonts and formatting options used in Word that could not be directly imported to Pages, but–when all was said and done–the document displayed in Pages pretty much the same as it did in Word.
So far, so good. Then I ran into a little snag. I wanted to close the imported Word doc and start a new document so I could type this article. I tapped. I swiped. I pinched. I double-tapped. I knew I had seen the menu, but I could not figure out how to get to it.
When I set the iPad down to solve a spilled chocolate milk emergency, it rotated orientation from landscape back to portrait, and voilà! The menu magically appeared. After 15 minutes of frustration, I learned the hard way that the menu bar only appears in portrait mode.
It was fairly smooth sailing after that hiccup. I was able to start a new document, change the format of the title to Heading 1, switch the text back to the Body format, and start typing this article.
The virtual keyboard won't work very well for touch-typers, but much to the consternation of both my wife and my seventh-grade typing teacher, I use a proprietary typing method I developed while teaching myself to use a Commodore 64–so I can actually type almost as fast on the iPad as I do on the physical keyboard at my desk.
Pages has all of the formatting options you might need for virtually any normal document, including paragraph justification, bold, italics, numbered lists, bullet lists, and more. The main thing I missed from Microsoft Word is the running tally of the word count in the information bar at the bottom of the screen.
If you're reading this online at PCWorld, then I was also successful at exporting the file in Word .doc format and getting it from my iPad to my Windows 7 notebook so I could get it uploaded over the VPN connection–something I don't (yet) have on the iPad.
As a Microsoft Word loyalist, I had some minor issues with Pages, but overall it seems to be a more than capable substitute and an app I can rely on if traveling with my iPad and leaving my notebook at home. I won't be abandoning my Windows 7 notebook any time soon, but the iPad does an admirable job filling in as a business tool in addition to simple Web-surfing and playing music.
Tony Bradley is co-author of Unified Communications for Dummies. He tweets as @Tony_BradleyPCW. You can follow him on his Facebook page, or contact him by email at tony_bradley@pcworld.com.