The word "revolutionary" gets bandied about quite a bit, particularly when Apple is involved. And to hear some people talk, the iPad tablet threatens the viability of all existing netbooks and e-readers while promising to usher in a new era of tablet computing.
Those rosy predictions may or may not be valid, but what about the important things–namely, video games?
As a gaming platform, the iPad has a lot going for it. The sheer number of applications already available is staggering, to say nothing of legacy applications for the iPhone and the iPod Touch. And though I wasn't particularly impressed with how double-pixel applications looked, backward compatibility is sure to please users with heavy investments in App Store products.
The iPad's biggest drawback as a gaming platform is mirrored across all of its use cases: How the heck are we supposed to hold this thing? At 1.5 pounds it's heavier than it looks, but trickier still is the business of manipulating the expansive screen while holding it aloft. I had the most success sitting upright on a couch (as the iPad ads encourage users to do). Playing while lying in bed was doable, too, though a bit more cumbersome than with the Nintendo DS or Sony PSP.
The iPad hardware leaves little room for complaint. The 9.7-inch screen is gorgeous; and though the 1024-by-768-pixel resolution may be a bit less precise than what you'd get on a television or a PC monitor, most of the native iPad games are quite stunning. Less welcome were the smudges that began building up on my screen after only an hour or so of play. If you plan to do a lot of iPad gaming, keep a screen cleaner handy.
Battery life is exceptional: After six or seven hours of extended informal testing, during which I ran the iPad on Wi-Fi and downloaded and played a number of games, my battery meter hovered near the 30 percent mark. As you would with most other portable electronic devices, you'll want to pack a pair of headphones. Sound quality from the single iPad speaker is fine, albeit lacking in bass or depth, when the speaker isn't obstructed. Unfortunately, such obstruction can happen easily–particularly if the game you're playing takes advantage of the accelerometer.
Ultimately, the applications will make or break this device as a gaming platform. And in this regard, the initial App Store offerings do not disappoint. Even better, games available now provide an excellent view of the iPad's strengths and weaknesses, and offer a few interesting lessons for developers.
iPad Plays Well With Others
Board-game aficionados, your electronic gaming platform is here. Though the iPad's $500 price tag means that it won't threaten the market for cardboard and plastic pieces with extinction anytime soon, the device's size and perpetual connection make it a great fit for group games and shared spaces. Scrabble leads the charge, with a readily accessible app from Electronic Arts.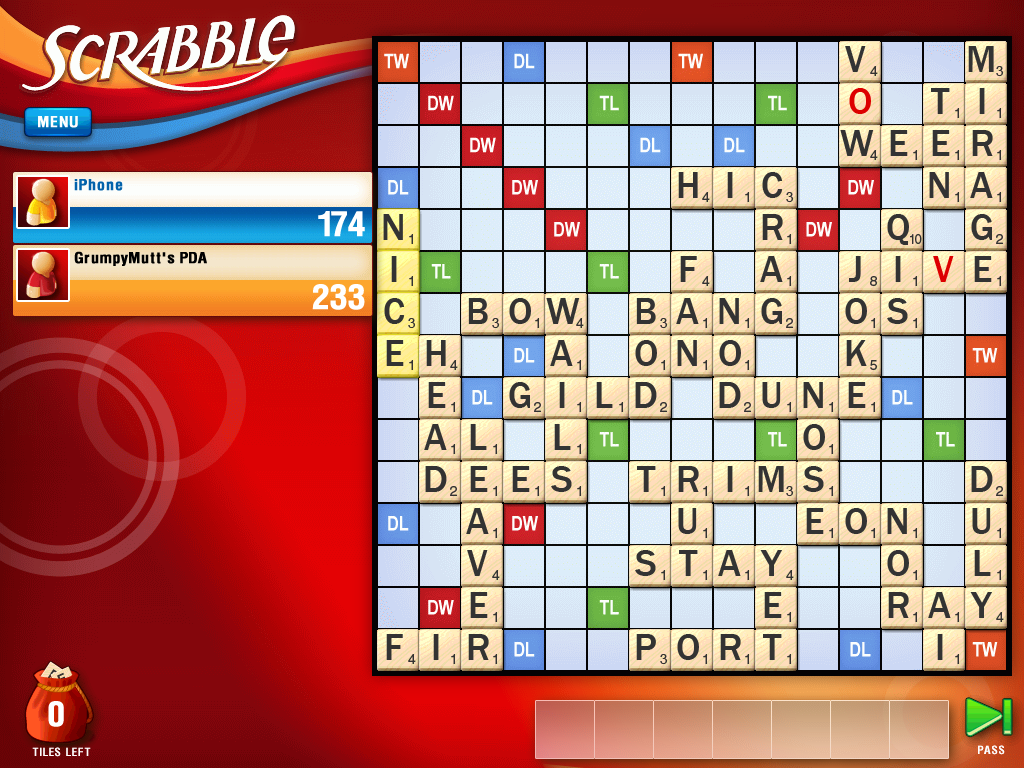 EA's Scrabble app takes advantage of Facebook Connect, to keep iPad owners up to speed with their browser-based brethren. We may lament the increasing encroachment of backlit screens on our social lives, but asynchronous gaming that keeps friends connected with a minimum of fuss–despite schedules or time zones–is always a good thing.
When you do have a bit of time to gather with friends, breaking out the iPad to play a bit of Scrabble isn't as awkward as you might think–and not having to set up or clean up keeps things casual. If you're limited to a single iPad, the device is light enough to be passed around with ease, and the application is simple enough that anyone to figure out how to play it.
Then there's the Party Play feature. With the iPad lying in a central location as the board, up to four players can compete, using their iPhones and iPod Touches as personal tile racks. After all of the players have downloaded a free app onto their Apple handheld, they'll be able to sync with the iPad, rearrange their tiles and flick them onto the board, or browse a Scrabble dictionary for valid words. True, it's a bit gimmicky–but it's also fun, and it adds some nostalgic value, with your letters safe from roaming eyes.
EA may have the board game with the highest profile out on the App Store, but with this much money lying on the table, a digital board game revival can't be too far behind.
Multitouch Shines Where Precision Counts
As a dyed-in-the-wool strategy game fan, I was surprised to find that the iPad made Command and Conquer: Red Alert legitimately bearable to play–certainly a first for the real-time strategy genre on a platform that lacks a mouse and a keyboard. Multitouch is the key here, coupled with the size of the display. Though Gameplay suffers from limited AI and an occasionally choppy frame rate, the level of control over units is impressive.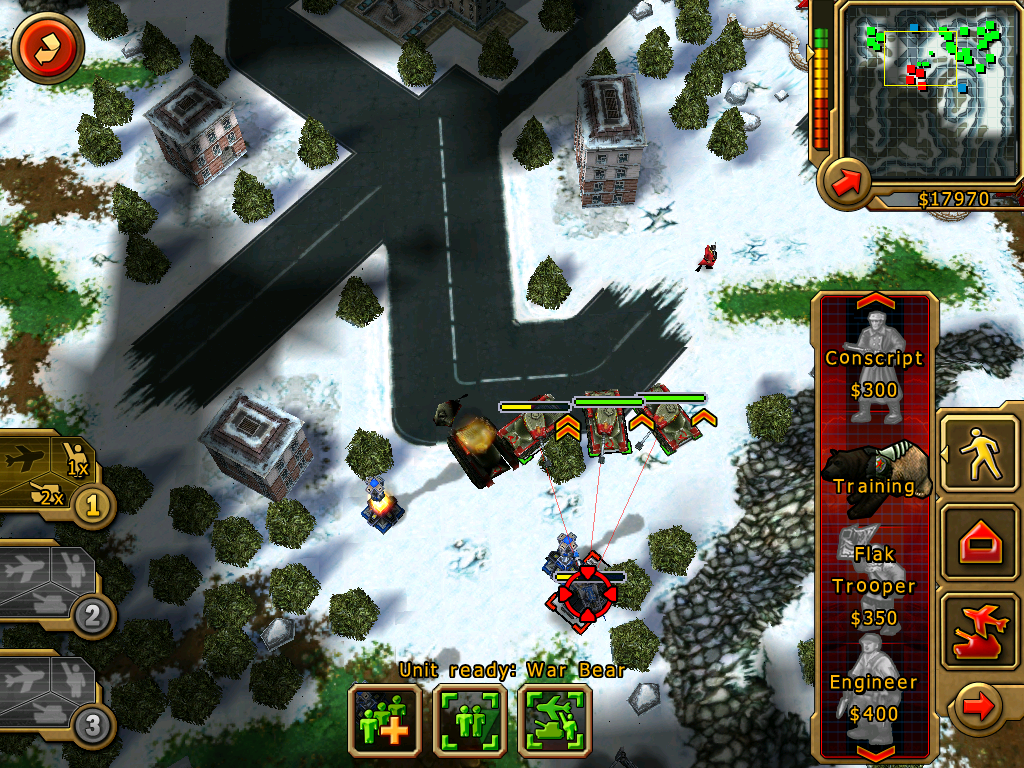 Micromanaging units can be tricky, as the developers were a bit too ambitious with the size of combat engagements. Nevertheless, the ease with which I could pan about the map, divide my troops into groups, and execute multifaceted attack strategies, dwarfs anything that consoles–portable or otherwise–have attempted with the genre.
While real-time strategy games have their proof of concept, tower-defense games have hit the ground running. Consider PopCap's Plants Versus Zombies. It's a stellar game in its own right and has appeared on multiple platforms, but the iPad version is hands down the best iteration of the game thus far: superior in execution even to the original PC version.
Blasphemy? Not quite. Though Plants versus Zombies HD may not include all of the features that shipped on the PC version of the game, the core experience is vastly improved. The visuals scale excellently down to the iPad's 1024 by 768 resolution, while offering ample maneuvering room.
Better still is the multitouch experience. Response and reaction times are faster, simply because you don't have to slide a mouse cursor across a map, and because you can tap (frantically) in as many locations as you have fingers to reach. It's portable, too, without the drawbacks we saw when the game made the transition to the iPhone.
The App Store Experience
Apple's App Store is already a phenomenal success, having sold billions of apps, to say nothing of the popularity of the Apple handhelds. The iPad shows no sign of changing any of that for the worse.
During the initial launch, there was no clear division between iPad and iPhone apps; but the applications have subsequently fallen into place, with developers settling on naming conventions–appending "for the iPad" or "HD" to their games. Still, further streamlining, and a clear line of demarcation between the devices, would be welcome.
Pricing will be a learning process for consumers and developers alike. App store enthusiasts have grown accustomed to a glut of readily accessible, 99-cent titles. But the prices of iPad games are venturing into "real game" territory: Most start in the vicinity of $5, and some go as high as $15.
Though console and PC gamers may be accustomed to the pitfalls of digital distribution–such as being unable to share game purchases, or to return a product they're dissatisfied with–some iPad owners shelling out increasingly significant dollar amounts for games are going to be sorely disappointed. Some sort of trial program, or demo system, wouldn't hurt either.
It's too early to claim that Apple's iPad will revolutionize the portable video game industry. But regardless of how successful the device is at changing the way we play, it's sure to be a windfall for game developers: After just 20 minutes of casual browsing through iTunes, I managed to burn roughly $70 on a handful of games.
Convenience is great, but a lurking danger here is the feeling of instant gratification. Tap the Buy button, and your brand new game will be yours in seconds. Those $5 to $7 purchases start to add up alarmingly quickly, however. Now that the iPad has arrived, offering greater potential for iPhone developers to improve the overall quality of their wares, we'll have to wait and see whether pricing scales accordingly.