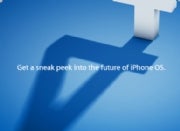 Apple on Thursday will preview the next-generation iPhone operating system, just a few days after the launch of the iPad tablet, which also runs on the OS.
The company on Tuesday sent out invitations for an event that will provide a "sneak peek of the next generation of iPhone OS software." The event will be at Apple headquarters in Cupertino, California.
Rumors about a new iPhone OS started spreading in early January, with speculation that a new iPhone would launch at a Jan. 27 event. However, a new OS was not announced.
Apple's last major iPhone OS update was in March 2009, when it previewed the iPhone 3.0 OS, which was ultimately released in June last year. The OS included more than 100 new features, including cut and paste, landscape mode for key applications, push notification, peer-to-peer Bluetooth-based multiplayer gaming, multimedia message service (MMS), and the ability to take voice memos.