I'm a huge fan of Instapaper, a fantastic free Web service that clips and reformats online content for later viewing on my iPhone. (You can read "clipped" stories elsewhere, too, but for today I'm focusing on the iPhone side of the equation.)
Let's say you're at your desk. You've just started reading PC World's new Gaming on the iPad feature, when suddenly you realize you've got a train to catch. No problem: Just click Instapaper's Read Later bookmarklet, then head for the station. The next time you fire up the Instapaper app on your iPhone, you'll see that exact feature–downloaded, reformatted, and ready for reading. Awesome, right?
Actually, there is one tiny problem: Instapaper doesn't do well with multi-page articles. "Gaming on the iPad," for instance, spans two pages. Once you've reached the end of the first page in Instapaper, you have to tap a link to move on to the second–at which point Instapaper dumps you into the Safari browser. Translation: no more lovely iPhone-friendly formatting.
The developer says he's "working on improving this for the future." In the meantime, here's a workaround: Before you click Read Later in your browser, look for a Print or Printer Friendly option on that page (see example below). That'll produce a single-page version of the story, and that's when you click Read Later.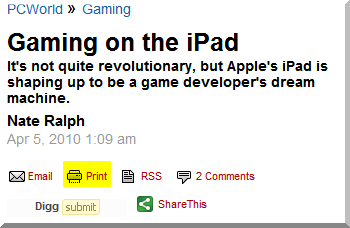 Presto! Now you've got the whole story ready for mobile consumption. This won't work everywhere; not every site offers a printer-friendly reading option. ("Entertainment Weekly," I'm looking at you.) But I've had success using this tip on many sites across the Web. Give it a try!