Today, the world somehow seems different. I can't quite place it, but…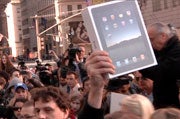 Oh, wait — I've got it. It's Apple's iPad. The long-awaited tablet made its way into the world this weekend, magically revolutionizing the lives of 300,000 eager buyers. Many of them lined up bright and early to be sure they'd be among the first to touch the mystical device.
Given the months of hype leading up the iPad's debut, it's not hard to see how it became a larger-than-life sensation (I hear the thing even makes salsa, for crying out loud — how many gadgets can claim that?). The question I had prior to the iPad's release, however, was who would actually buy it — and the answer, it seems, is pretty much right in line with what you would expect.
Apple iPad: 300,000 Sold, But to Whom?
Prior to the iPad's launch, analysts predicted it'd be primarily Apple fanboys snatching up the latest Apple creation (OK, they didn't actually use the term "fanboy," but that's more or less what they implied). Based on the iPad's early adopters, that prediction appears to be fairly accurate so far.
To wit: The vast majority of the iPad's 300,000 launch-day sales went to current Apple product owners, according to a survey by tech analyst Gene Munster of Piper Jaffray. The survey, published at CNN's Fortune Brainstorm Tech blog, presents the following conclusions:
• Nearly three-quarters of iPad buyers were regular Mac users. Only a quarter were PC users.
• About two-thirds of the people who purchased iPads also owned iPhones. Nearly all of them — 99 percent — said they planned to use both devices together.
• Seventy-eight percent of the iPad crowd said they didn't consider any other gadgets before deciding upon their iPad purchase. (That may or may not be because they used a magical and revolutionary iPad decision-making chart.)
iPad Sales in Perspective
Now, to be fair, Mr. Munster is the same fella who completely screwed the pooch when it comes to iPad sales estimates. Munster upped his prediction on Saturday night, saying he expected Apple to sell 600,000 to 700,000 of the suckers. (He'd originally guessed 200,000 to 300,000.) The M-man blamed an overestimate of online presales for his slip-up.
The actual iPad buyer survey, however, is based on research — not educated guesswork. And the truth is, its findings are perfectly plausible: All fanboy jokes aside, Apple users are known for being loyal to the brand and apt to trust innovations presented by the Man in the Black Turtleneck. Particularly when it comes to the first few days of an untested technology, it takes that level of confidence and dedication to take a $500 risk.
Selling 300,000 iPads in a weekend is no small feat for Apple; that's even more than the number of launch-day iPhones it sold back in 2007. Apple's bigger challenge with the iPad, though, is still ahead: bringing it beyond the niche enthusiast crowd and turning it into a mass-market device. If the iPad is to start any kind of magical revolution, that's one obstacle it'll have to overcome.
JR Raphael is a PCWorld contributing editor and the co-founder of eSarcasm. He's on Facebook: facebook.com/The.JR.Raphael