I pre-ordered the 32Gb Wi-Fi model of the Apple iPad, and I have been immersing myself in what it can, and can't do, for the past couple days since it arrived. I am still trying to test the boundaries of what the iPad can do as a mobile business tool and determine its limitations as a notebook replacement.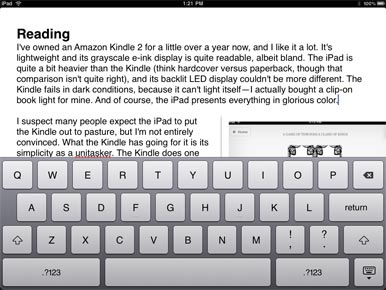 The iPad's capabilities as a gadget for consuming media are superb. I have a Netflix subscription, so I am liking the ability to stream movies directly using the iPad app. I have the ABC Player app so I can catch any Lost or Gray's Anatomy episodes I have missed (note to CBS and NBC–I'd also like to watch Big Bang Theory and The Office). I have the Amazon Kindle app for reading books, and the Zinio app for reading magazines.
But, the question before me is whether or not the iPad has what it takes for me to leave the notebook at home and rely on the tablet device for business productivity functions as well. One of the weaknesses of the iPad is the limited storage capacity. Its not expandable, so whatever you bought is what you're stuck with–on the device itself at least.
The iPad does have access to the cloud, though. And, the cloud, unlike the iPad, has virtually limitless storage capacity. Many small and medium businesses are already leveraging cloud-based apps for office productivity with Google Docs–a natural fit for the iPad.
With my Wi-Fi only iPad, though, I can't count on always being connected to the cloud. Thankfully, Memeo has an app to solve that problem sort of. Memeo Connect Reader syncs your documents from Google Docs so they are available on the iPad even when its offline. You can view the docs no matter where you are–connected or not–in native formats for Microsoft Office, Apple iWorks, PDF files and more.
Problem solved–assuming you use Google Docs and that you don't want to create or edit any docs while offline. Memeo Connect Reader just views, otherwise it would probably be called Memeo Connect Editor.
If you want to actually create new documents or edit existing documents you will need some other solution. Granted, even though there is no Google Docs app for the iPad, as long as you have a Wi-Fi (or 3G for the 3G-enabled iPads) connection you can actually just use the Safari Web browser to access to the actual Google Docs site where you can actually work with the files rather than just viewing them, but the option to "Create New" files is not available from within Safari on the iPad.
Business professionals that use Microsoft Office instead of Google Docs need some other tools. Apple created the iWork for iPad apps (Pages, Numbers, and Keynote) with the ability to export files in Microsoft Office-compatible formats. Each app is $9.99, but that seems like a small price to pay for the ability to create Office-compatible docs on the go with the iPad.
You can also use the iWork for iPad apps to edit docs you have synced up with the iPad using iTunes when you have it connected to your desktop or notebook. However, if you're out and about and suddenly need to edit a doc that you didn't have the foresight to sync to the iPad, you're more or less out of luck.
Of course, if you use the cloud to store your docs, then you have access to them no matter where you go. Google opened up the file formats allowed to be stored in Google Docs folders earlier this year, so Word docs, Excel spreadsheets, and PowerPoint presentations , and you can use other apps and services, such as Box.net, to store files in the cloud.
Unfortunately, there doesn't seem to be any way–at least no simple or intuitive way–to grab a file from cloud-based storage and open or edit it with the iWork apps. If you don't have iTunes to import the file and sync it with iWork, then you won't be able to edit it on the go.
So–the experiment of the iPad as a business tool so far seems to show that its capable in some ways and lacking in others. It will work in a pinch, and there are ways that can be adapted with proper preparation to fill in for a netbook on the go.
However, my trials and tribulations trying to work with simple business productivity files has demonstrated some of the reasons that the HP Slate tablet could be a much better business tool than the iPad. However, the functionality has to be balanced with the weight and battery life of the device, two areas that the iPad excels in.
Another option, though, could be to use remote desktop solutions like Array Networks or Core Plus to simply stream your desktop or netbook to your iPad. Then, as long as you have a Wi-Fi (or 3G) connection, you can simply use the software you are used to using, and have access to all of your files and data no matter where you might be.
Tony Bradley is co-author of Unified Communications for Dummies . He tweets as @Tony_BradleyPCW . You can follow him on his Facebook page , or contact him by email at tony_bradley@pcworld.com .