Anyone who has undertaken a home renovation project and lived to tell the tale has stories about the problems and frustrations inherent in even the smallest project. Ashampoo Home Designer ($20, 10-day free trial) tries to make it easier for you. By letting you see the project in 3D ahead of time, it might help you make sure it all looks right and fits together. However, given its limitations, you may not get nearly as much help as you wish–and you may instead get another helping of frustration.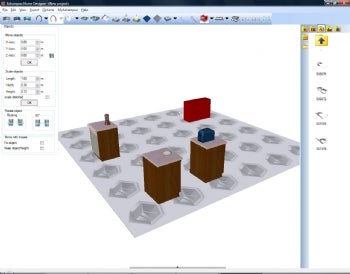 The primary problem is that there simply isn't that much flexibility or choice in Ashampoo Home Designer. For example, let's say you want to redo your kitchen. Naturally, one of the first things you want to do is decide on your choice of appliances, such as a refrigerator, stove, and dishwasher. When you navigate to the Appliances section of the program, your choices are limited, and very hard to understand.
Most of the appliances are labeled things such as HV33AB520.cyg or KF0200, so you have no idea what they are. Googling the first example found us a Siemens stove at German-language Web sites, but the second turned up an off-the-shoulder girls' dress as its first result. And the items that are labeled by type are so generic that they are not especially helpful. There is only a single, generic dishwasher, for example. There are no refrigerators. As for stoves, they are labeled things such as "Cooker," "Cooker and drawer," and "Cooker with big drawer." The use of the word "cooker" instead of "stove" suggests that Ashampoo Home Designer may be more useful in Europe than in the U.S.
You'll find similar issues when designing other rooms or exteriors. When you go to design a bedroom, for example, there is a single object you can put in it: the item labeled "Bed 185×95." In centimeters, this measures slightly smaller than an American twin-size bed.
If you want to block out areas in a room with generic objects so that you can see overall placement and walk through it and see it from different angles, you may find this program of use. But if you're looking for a program that will let you see specific appliances, furniture, and so on ahead of time, Ashampoo Home Designer most likely won't help.
Note that you can get an additional 30 days for the tryout period if you provide your e-mail address to vendor Ashampoo. Also be aware that when you install the software, it will ask whether you want to install an Ashampoo toolbar, set your home page to Ashampoo, and set the Ashampoo search as your default search. Uncheck the boxes next to each if you don't want to do that.