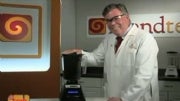 Apple's iPad has hit Internet video primetime, with a slew of offbeat salutes to the product which launched on Saturday. Most of videos are benign unboxings, and some are Rickrolls, and then there are those you have to see to believe.
Here are five offbeat iPad-themed videos that capture the whimsical, crazy, and violent reaction to the iPad retail debut.
You had to know this one was coming. After launching his viral marketing campaign around 2007, Blendtec founder Tom Dickson has been sticking anything he can find into his Blendtec blenders. This time it's the iPad's turn, and guess what? It blends.
Is there a better way to spend a Saturday morning than to head over to your local Best Buy, pick up an iPad and then smash it to bits in the parking lot? Maybe these guys just wanted to run their own PCWorld-style stress tests, or maybe it was a protest against the mass hype and marketing surrounding Apple's new tablet device? Then again, maybe it's just a bunch of guys smashing it up for no reason. What do you think? Was this five hundred buck well spent? Warning: NSFW, there is some mild coarse language in here.
If you want to give your kids nightmares, there's an app for that. Ezone has developed an application called Crazy Face that puts the image of a monster on your iPad. As you speak, the microphone picks up your voice, and the mouth and eyebrows of the onscreen monster move as you talk. For maximum effect hold the iPad up to your face for that monster mask look, grab a book and see what your child thinks. Just remember to pick a short book, because if your child loves Crazy Face, holding a 1.5-pound iPad in front of your face could get tiring pretty quickly.
YouTube user, alexsian, found a weird quirk in his iPad when he took it home: the thing types on its own. In what looks like a manufacturer defect, this iPad's virtual keyboard is unusable. Every time alexsian tried to type something, like a URL into the iPad Safari Web browser, the device would randomly input letters on its own. This made the iPad impossible to use for anything that requires a keyboard such as e-mail, Web browsing or typing your login credentials into an iPad application. This is one iPad that would be sure to fail any typing test.
Staff members at this Apple Store in Arlington, Virginia were really excited about iPad launch day. Either that or they got early news about quarterback Donovan McNabb coming to the Redskins. Similar scenes of staff hype were reportedly carried out at other Apple Stores across the country. I don't know about you, but this is just a little too much Apple joy for a Saturday morning for me.
Want more iPad videos? Check out PCWorld's iPad stress tests to see the level of everyday punishment Apple's latest device can handle.
Connect with Ian on Twitter (@ianpaul).