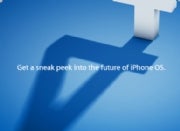 The iPad launched just days ago, but already Apple is gearing up to introduce a new version of the iPhone OS as well as a rumored (not to mention expected) new iPhone model. On Thursday, the company will be presenting a sneak peak at the next iPhone OS, just as it did last year. But unlike previous iterations of the iPhone OS, this version, iPhone OS 4.0, is expected to be designed to work on three different machines: the iPhone, iPod Touch and the iPad.
The iPhone and iPod Touch are basically pocket computers. The iPad, on the other hand, has a larger screen and is, by most accounts, primarily best used as a media consumption device. But some critics also argue that it could become a laptop replacement in the future.
So now that the iPhone OS landscape is starting to fragment, how will the iPhone OS 4.0 features affect the different devices? Here's my take based on previous iPhone OS 4.0 rumors and my own feature wish list:
Third-party Multitasking [rumor]
Let's not forget that the iPhone and the iPad actually do have multitasking capabilities; it's just that third-party applications can't take advantage of them. With the next version of the iPhone OS, Apple will reportedly allow third-party multitasking, and include an Expose-like feature that shows you all the open programs on your device at a glance.
iPhone/iPod Touch: Third-party multitasking could be great if you want to run two third-party apps at once; this would allow you to listen to a radio streaming app such as Pandora while playing a game. But how will this affect the earlier iPhone models–iPhone and iPhone 3G–since these devices have less memory and processing power than the iPhone 3GS? Will Apple allow an unlimited number of apps open at once, or will hardware specs limit the ability for your device to multitask?
Also, what kind of a drain will this put on the battery? Apple has always said they didn't want to add third-party multitasking to preserve battery life, so has the company solve this issue or will your iPhone's battery life take a huge hit?
Finally, what about background processes? Having two apps open at once is great, but do you really need or want something like AIM running in the background when the app is closed? If these apps can run in the background, what kind of controls will Apple give the user to kill these applications when they get too annoying or draining to the system?
iPad: The iPad reportedly has great battery life, so you should be able to multitask on the iPad without worrying about draining your device too quickly. Using an Expose-like feature on the iPad would also make more sense on the 9.7-inch diagonal screen compared to the 3.5-inch iPhone/iPod Touch screen. The iPad's proprietary A4 chip should also be able to easily handle multitasking better than any version of the iPhone and iPod Touch devices.
Voice-to-text functions [wishlist]
iPhone/iPod Touch: Some critics and pundits made a big deal about the Android-based Nexus One's voice-to-text functionality that allows you to send e-mails and text messages using voice dictation. The iPhone has a little bit of voice command functionality that allows you to place a phone call or control you iPod, and there are iPhone apps that use voice-to-text such as Google's search application and Dragon Dictation. But these apps don't quite make up for a lack of built-in functionality, especially since Dragon requires you to paste your dictated text into your other applications such as Mail or SMS.
iPad: The jury is still out on the keyboard capabilities of the iPad, with some reviews saying it's great and others completely trashing the iPad's virtual keyboard compared to its physical counterpart. So a little dictation might go a long way for the iPad since, if you had to type less to get some basic things done, the iPad it could be more functional as a netbook replacement.
Unified Inbox and Home Screen Contacts [rumor]
iPhone/iPod Touch: A single inbox for all your e-mail accounts would make things a lot simpler for iPhone/iPod Touch users, and reduce the number of steps to switch between important e-mail accounts. Placing favorite contacts on the home screen would also be handy if you need to get to priority phone numbers faster than using the phone application's favorites menu.
iPad: A unified inbox would be helpful for iPad user as well, but I'm not sure home screen contacts would enhance the user experience that much since the iPad doesn't have a phone application.
Screen Rotation Lock [wishlist]
iPhone/iPod Touch: The Kindle for iPhone application has it, so why not the rest of the iPhone? There's nothing more annoying than lying on the couch, trying to read something on your iPhone or iPod Touch, and then suddenly the screen shifts to landscape mode. But how would this feature be implemented on older iPhones, since you couldn't use a physical key like you can on the iPad? A persistent lock icon that sits in the bottom corner of the screen, like the Kindle app, could work as long as it didn't get in the way of other functions like trying to click on a link in Safari. One thing that wouldn't be effective would be if Apple buried this feature somewhere in the settings, and either had to be on or off for the entire device. Rotation lock would work best if you could turn it on and off within the application you're using.
iPad: Already has it.
Front-facing camera [wishlist]
iPhone/iPod Touch: A front-facing camera on the iPhone is a long-standing rumor that has yet to come to fruition, and probably wouldn't be announced until the summer. But now that you can use VoIP apps like Skype over 3G the time may finally have come for iPhone video conferencing. It's also worth noting the HTC EVO 4G is launching on Sprint this summer with a front-facing camera. However, the HTC EVO 4G is designed to run on Sprint's faster WiMAX network, which should be better suited to data-intensive functions like video conferencing. Apple's next-gen iPhone, meanwhile, would have to contend with slower 3G speeds on AT&T's improved, but still slower than WiMax, 3G HSPA 7.2 network. I also wonder if a front-facing camera would end up on only the iPod Touch or only the iPhone to make sure these devices don't become more similar than they already are.
iPad: If the iPhone is getting software to run a front-facing camera for iChat and Skype then it's a pretty good bet that iPad 2.0 or 3.0 will be getting an iSight camera as well. This would be an obvious feature addition to the iPad.
Another thing to watch out for on Thursday would be an announcement for the dates of Apple's annual Worldwide Developers Conference. WWDC is typically announced in March, and then takes place in June. For the past two years Apple has used the WWDC keynote to unveil new iPhone models: the iPhone 3G in 2008 and the iPhone 3GS in 2009.
Connect with Ian on Twitter (@ianpaul).