Western Digital launched a new line of VelociRaptor drives today–doubling storage capacity and improving performance over the previous VelociRaptor models. Businesses of all sizes can capitalize on the benefits of the VelociRaptor drives.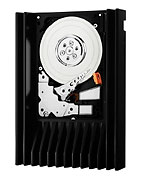 Western Digital announced in a press release on its site "The new WD VelociRaptor hard drive is designed for blade servers, high-performance PCs, Mac® computers, professional workstations, as well as 1U and 2U rack servers that require a balance of high performance and capacity."
The press release also states "As the only 10,000 RPM SATA hard drive on the market today, and a favorite amongst enthusiast and enterprise groups, the WD VelociRaptor hard drive now comes packed with twice the capacity and up to 15 percent performance increase over the previous generation."
The 10,000 RPM drives spin the drive platters about 40 percent faster than the standard 7,200 RPM drives found in most systems. The new drives combine double the data transfer speed of previous VelociRaptor drives–6Gbps instead of 3Gbps, and double the storage capacity of previous drives–now available in 450Gb and 600Gb capacities, providing a cost-conscious drive that delivers enterprise-class performance.
The VelociRaptor drives are designed to meet mission-critical demands without sacrificing reliability. Built for 1.4 million hours MTBF (mean-time between failures) and a five year warranty, Western Digital engineered the drives to last.
The drives themselves are 2.5-inch, but Western Digital offers the VelociRaptor in a 3.5-inch IcePack mounting frame. The IcePack is a backplane-ready enclosure that has a built-in heat sink and ventilation ribs to dissipate heat and keep the drive cool under even intense usage.
The VelociRaptor drives also have two proprietary Western Digital technologies to improve performance and reliability. Rotary Acceleration Feed Forward (RAFF) optimizes drive operation and performance when using the drives in a vibration-prone, multi-drive chassis. The NoTouch ramp load technology ensures that the recording head never touches the disk platters ensuring significantly less wear to the recording head and media as well as better drive protection in transit.
Tom McDorman, vice president and general manager of Western Digital's enterprise business unit, said in the Western Digital press release "Demand for performance combined with an increase in capacity continues to rise and WD is the leader in this category. WD customers can rely on the new WD VelociRaptor to deliver high performance under the harshest conditions, while continuing to keep user data safe."
The 450 Gb model retails for $299, and the 600Gb drive retails for $329–both significantly higher than standard 7,200 RPM drives, but exceptionally cost-effective considering the performance and reliability improvements.
Tony Bradley is co-author of Unified Communications for Dummies . He tweets as @Tony_BradleyPCW . You can follow him on his Facebook page , or contact him by email at tony_bradley@pcworld.com .