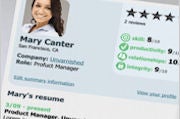 'Unvarnished' is a new website that's been stirring up a lot of controversy–and it's not hard to see why. The site offers people the ability to rate, review, and give opinions about others' professional performance–anonymously, and without censorship.
It's a lovely idea, really–a little corner of the 'net where people can provide valuable feedback for others on their professional demeanors; a wonderful resource for future bosses, colleagues, and clients.
Oh, right, except for the part where it's based on completely anonymous , un-erase-able reviews that can be left by anyone with half a brain and an internet connection.
Unvarnished functions like other social networking sites–especially the popular professional social networking site, LinkedIn. Users can create a profile with their resume and work information, and request reviews from their professional colleagues. The difference, of course, is that users can also "create" a profile for non-Unvarnished users–if you, say, want to leave a review of that shoddy intern from two summers ago and he/she doesn't have a profile–no worries, you can still leave the review. Shoddy intern can then claim said profile later, if he/she so desires.
Unvarnished is only marginally similar to LinkedIn, however. LinkedIn users can moderate what reviews show up on their profiles, and can moderate who can see their profile. Unvarnished reviews are different, in that users can neither moderate nor erase them.
Hmm, anonymous reviews that you can never erase–does that sound a little bit dangerous to anyone, or is it just me? Don't worry, though–Unvarnished provides a comprehensive "Community Guidelines" page, which includes rules for posting reviews, such as "Be honest, but be fair. Only review people you have a professional relationship with. Only discuss business-related topics."
Just in case users are inclined to (gasp!) not follow the rules and guidelines (though, as we know, everybody on the internet always follows all of the rules), Unvarnished also provides a "suite of tools to allow the community to rate and moderate reviews." While reviews remain anonymous, the quality of each user's reviews are rated by other users, and each review thus features a "Reviewer Authority Score Badge," which is based on said ratings.
Badges include gold, silver, and bronze "Trusted Reviewer" tags, as well as "Novice Reviewer" and "New Reviewer." There's no "Troll" badge, which is unfortunate as I predict a good 90 percent of reviewers will be deemed as such.
Still, if some anonymous loony is out to ruin your reputation and/or life, there is something you can do about it–become a Unvarnished user yourself! According to the Unvarnished "About" page, "Profile owners can manage and build their reputation, by receiving notifications of new reviews, requesting reviews from trusted colleagues, adding resume details, and responding to reviews."
So yes, the only way to "manage" your reputation is to become an active participant in the conversation–as Internet Evolution's Nicole Ferraro points out, "therein lies the choke-hold."
There's very little, aside from the Wikipedia mentality of "the crowd will control the crowd," regulating Unvarnished (which is still in private beta)–though users are asked to sign in via Facebook Connect to verify that they are at least 21 years of age. Luckily, nobody ever makes fake Facebook accounts that may or may not lie about their age (to be fair, the Unvarnished site does state that Facebook accounts which appear to be fake and/or recently created for the purpose of posting illegitimate information will be removed, along with all reviews left by them).
I have to give Peter Kazanjy, the founder of Unvarnished, some credit, though–it appears that there is at least one person in the world who hasn't lost all faith in humanity since the advent of the Internet. Unfortunately, the rest of us live in the real world, and in the real world Unvarnished is sure to be a troll haven before it even makes it out of beta testing.