When it comes to Twitter, I prefer to be a consumer, not a producer. In other words, I know no one cares what I had for breakfast, so I don't bother to tweet about it.
However, I do care what famed astrophysicist Neil deGrasse Tyson (@neiltyson) has to say, because it's usually interesting and educational. So he's among the select few Twitter users I follow.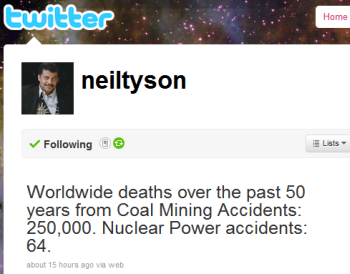 And therein lies my point: Twitter can actually be a fun, informative, and even practical tool–provided you follow the right people. Here are my three favorite uses for the service:
Find deals Love bargain hunting? Twitter takes the actual hunting out of the equation, instead dropping deals right in your lap. It's just a matter of following the right sites and bloggers. Here are a few to get you started: @cheapskateblog (mine!), @FreeStuffUS, @dealsplus, and @bargainbabe.
Keep tabs on celebrities Call me star-struck, but I think it's cool to get messages from the likes of Aziz Ansari, Jimmy Fallon, Paul Feig, and my personal music hero, Brendan Benson. Makes me feel like we're buds. If there's an actor, comedian, musician, or other famous person you admire, head to Twitter, click Find People, and then follow that person. It's fun!
Manage a group As the coach of my daughter's soccer team, I need a quick and easy way to contact all the parents in case of scheduling changes, rained-out games, and the like. By getting everyone to "follow" me (and receive my tweets via text message), it's a snap to communicate with the group.
Okay, those are my picks–now let's hear yours. Tell me how you put Twitter to good use. And in case you missed it, check out Get Started with Twitter in Three Easy Steps.