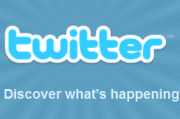 Twitter may have become a household name, but it remains a mystery to many people. Perhaps even most people. For the next few days, I'm going to put on my teacher's cap and show you how to set up a Twitter account, how to put that account to good use, and how to read your incoming "tweets" (i.e. messages) from just about anywhere.
What the heck is Twitter? In a nutshell, it's a messaging service, a way for one person (or organization) to communicate with others in 140-character blasts.
What do you do with Twitter? If you're feeling narcissistic, you can send out messages of your own, on whatever subject you like, to anyone who chooses to "follow" you (i.e. subscribe to your Twitter feed in order to read your message)
At the same time, you can "follow" others (friends, family members, Shaquille O'Neal) and read what's on their minds.
There's no cost to using Twitter, and signing up for an account won't fill your inbox with spam or anything like that. So why not give it a try? Here's how to get started:
1. Open your browser and head to twitter.com.
2. Click Get started now.
3. Complete the signup form. Keep in mind that your selected username will become your Twitter "address," so put a little thought into it. (The form will tell you immediately if your desired name is already taken, at which point you'll have to think of something else.) Click Create my account and you're good to go.
That's it! You're now an official member of the, er, Twitterverse. Now let's find something interesting for you to follow. Click Find People, type pcworld, and then click Search. Our Twitter feed should be the first result that appears. Mouse over the accompanying icon of the little person and click it to follow PC World. (Don't worry, this isn't a permanent marriage. You can always "unfollow" us later if you want.)
Now click Home and you'll see all the latest tweets from PC World's editorial staff.
That's it for now. Check back tomorrow to learn about fun and practical ways to use Twitter, and Friday for help with reading tweets in places other than your browser.