Apple didn't even wait for the iPad dust to settle before summoning the media to its next big event. On Thursday, journalists will gather once again ostensibly to hear about the next-generation of the iPhone operating system, and possibly an unveiling of the next-generation iPhone hardware.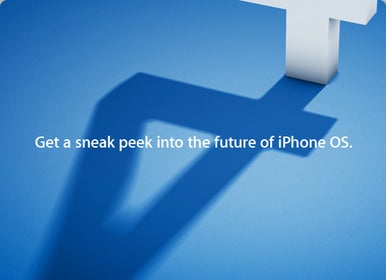 There have been predictions and wish lists for iPhone OS 4.0 since…well, since iPhone OS 3.0 was released. Many of those items will fail to materialize and will become the seeds of the iPhone 5.0 wish list.
There is a fine line between a prediction and a wish–especially when it comes to forecasting technology. But, I'll take a stab at it. Here are my top five predictions (wishes) for what Apple will announce at the media event tomorrow:
1. Multitasking. Apple has maintained that true multitasking is too much of a battery drain, and introduces security concerns for the smartphone. Both of these assertions are true. I don't agree with eliminating multitasking on the basis of battery life, though. I think it may be more about possible limitations of the iPhone's processor than authentic concern for user experience.
That said, I also feel that there are suitable workarounds for multitasking and that true multitasking may not be necessary for the iPhone. However, the iPhone now shares an OS with the iPad, and the iPad would definitely benefit from true multitasking.
Where I do feel for Apple on the multitasking issue is with security. It has already been demonstrated on jailbroken iPhones that the ability to run multiple apps simultaneously opens the door for malicious apps to be running in the background without the user's knowledge. If Apple does, in fact, introduce multitasking, it may be faced with a spike in security issues on the platform.
2. File Management. I can sync files to my iPhone and iPad. I can put music files into the iPod app. I can import documents and spreadsheets to work with their designated iWork apps. What I can't do is simply transfer whatever file I might want to transport via my iPhone or iPad.
Why can't there be a general data repository where I can place any file type I choose? If I had that, the iPhone could also fill the role currently occupied by the USB thumb drive attached to my key ring.
On a related note, Apple needs to fix the iWork for iPad apps to make them more functional. They are fine for creating docs, and they are adequate at editing existing docs–as long as you remembered to sync it via iTunes while your device was tethered to your desktop or notebook. However, you can't simply open a file. I should be able to store data on the iPhone or iPad, and open docs, spreadsheets, and presentations using iWork for iPad without such a convoluted process of syncing and importing.
3. Unified Inbox. The first time I had an iPhone, I was working at a company that used Microsoft Exchange. I had all of my POP3 e-mail accounts configured in Outlook to go to my Inbox, which meant they got synced in reverse to Exchange, and delivered through my one Exchange account to the iPhone. Convenient, one-stop shopping.
Now, I no longer have an Exchange account, but instead I have five different POP3 accounts configured on my iPhone and iPad. To check my email I have to look at the Inbox for an account, back out of the Inbox, then back out to the list of accounts, select the next account, then select that account's Inbox. Rinse, and repeat. What a pain.
My iPhone and iPad should have one Inbox where all of my e-mail from all of my accounts is delievered. It should also allow me to create folders to sort and filter e-mail messages, and it should enable me to locally store more than just the last 50, or 100, or 200 e-mail messages.
4. Cut the Cord. First of all, if Apple wanted to make iTunes the sole interface for syncing and updating its devices, it should have called it iSync. iTunes implies that I want to purchase music, not sync my calendar events and contacts from my desktop, or import Word docs to work on while on the road.
But, iTunes it is. That said, why do I have to connect to it? Apple enables enterprise IT admins to push configuration changes via Exchange, and most smartphone platforms are capable of updating over the air. I have a Wi-Fi connection with both my iPhone and my iPad, and Apple should put it to use for syncing and updating.
5. Universal Search. The Spotlight search functionality on the iPhone and iPad is better than what the iPhone used to have–which is no search capability at all. However, it is limited to only searching the device, and even on the device it doesn't always comprehensively search information from third-party apps (arguably the fault of how those apps are developed rather than a flaw on Apple's part).
Granted, I can just open the Safari Web browser and go to the Google or Bing site and search to my heart's content. However, it would boost the functionality of the iPhone OS search feature– and the productivity of iPhone and iPad users–if a search entered in Spotlight yielded results from the device itself, as well as from the Web, social networking sites, and any other relevant resources.
So, those are my top five predictions (wishes) for the changes and updates we can expect Apple to unveil at the big iPhone OS 4.0 event tomorrow. Are there any other features and options on your forecast (wish list)? I'd be interested to learn what other capabilities users are interested in, particularly business professionals looking for new features to improve the value of the iPhone or iPad as a business tool.
Tony Bradley is co-author of Unified Communications for Dummies . He tweets as @Tony_BradleyPCW . You can follow him on his Facebook page , or contact him by email at tony_bradley@pcworld.com .