The most exciting PC game add-on of 2010 just arrived, and you've probably never heard of it. It doesn't have 3D graphics. It can't be played with a gamepad or joystick. It doesn't have cameos from TV stars like Josh Holloway, Tricia Helfer, or Michael Ironside. And–shocking but true–it'll run pretty well on an old-school Pentium III rigged with just 256MB of RAM. (For the record, all you lurking Mac users, it also plays like a dream in Parallels.)
It's called Across the Dnepr: Second Edition (aka ATD2) and if that still means nothing to you, listen up, because it's based on one of the best operational-scale wargaming systems ever devised.
Matrix Games just emailed to announce ATD2's release (well, released on Monday–I just moved back from the UK, so my schedule's shot). It's available now from their website for $40 downloadable ($50 physical or physical plus downloadable). You'll need the original game, Kharkov: Disaster on the Donets, to play, so add another $50 to your bill if you don't already own that.
What's Across the Dnepr 2? A turn-based, hex style World War II wargame simulating military operations during July 1941, when the German war machine was smashing its way into Russia. It's by Strategic Studies Group (SSG), a bunch of Australia-based wargame wizards, including PC gaming legends Ian Trout and Roger Keating. You may have heard of the last two if you were wargaming in the '80s or '90s. Halls of Montezuma? Decisive Battles of the American Civil War? Reach for the Stars? Warlords? The Ardennes Offensive? Those guys.
From Matrix's ATD2 game description:
Four mighty German armies have smashed through the Soviet frontier defences, and are aimed directly at Moscow. Before Moscow can fall, Smolensk must be taken. The Red Army, recovering from the initial onslaught and reinforced by Stalin has been ordered to counterattack the unsuspecting Germans. This massive collision of forces produces a maelstrom of men and machines. For the Germans, delay at Smolensk equals defeat at Moscow. For the Red Army, no price is too high to pay.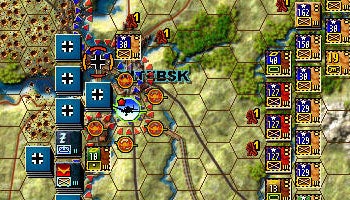 The original version of Across the Dnepr launched in December 2003 and riffed on the award-winning operational-scale Korsun Pocket engine. More games followed, including one that offered battalion-scale scenarios based on Market Garden, Novorossisk, and Saipan. In 2008, SSG released Kharkov: Disaster on the Donets, overhauling the Korsun Pocket engine and remedying some of the most contentious longstanding issues in the debate over "playable" historical verisimilitude.
One of those remedies was to create optional "areas of operation" that restricted the movement of units to historical parameters, thus forcing players to grapple with historical problems without compromising decisional flex. This was supplemented by "mystery variants" or "variable AOs" that changed, randomly, at the start of each game to frustrate rote memorization. In SSG's words, "the combination of AOs and Mystery Variants restricts the location of operations as well as the tempo, while at the same time increasing uncertainty and tensions by removing the dead hand of hindsight."
ATD2 folds the original game into the Kharkov ruleset and delivers a 20-day campaign while boasting "improved AI," which kind of terrifies me, since Kharkov's was already outstanding. You'll also get a new unit to play with, the Russian NKVD. Anyone who's read Anthony Beevor's Stalingrad knows these guys were responsible for some of World War II's worst warzone atrocities. We're talking about Russians who disciplined and frequently murdered fellow Russians to keep them fighting in the teeth of the German onslaught. No surprise, in ATD2 they can be used "to prevent other units [read: Russian] from retreating."
The expansion includes three free scenarios: Operation Husky (the Allied invasion of Sicily in summer 1943), Operation Konrad (the Battle of Budapest in January 1945), and Kirovograd (part of the Dnepr-Carpathian offensive between December 1943 and April 1944). If you already own Kharkov, or just want to tinker with the latter three scenarios, they're available free in the Kharkov version 1.2 update, which brings the latter up to par, features to fixes, with ATD2.
But okay, time to level with you. This isn't a game for lightweights. You can't play it without studying the tutorial like a textbook. Said tutorial takes up 38 pages of the 166-page manual, and it's not for the fainthearted, with some 35 topics and dozens more sub-sections of detailed rules. We're talking enthusiast-caliber boardgame territory here, along the lines of a game like Advanced Squad Leader, only at the operational level. It's for patient military history buffs who play with one hand parked in a scholary history book (anything by David Glantz in particular).
Still not sure what to think? Scan the following after action report (AAR), parts one and two, to sample…or if you're already sold on the game, to see how the pros do it.
Follow us on Twitter (@game_on)