The free AdblockIE utility for Internet Explorer 8 blocks content from known online advertisers, including images, scripts and flash. It's simple to install and doesn't require any configuration, but it also doesn't allow for any real fine-tuning or customization.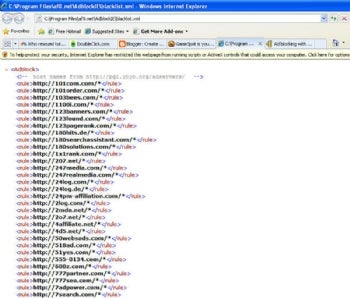 After installing the tool, you won't see any buttons, notifications or other tell-tales that AdblockIE is doing its thing. But neither will you see a good chunk of the ads that would otherwise be clamoring for your attention.
To decide what to block, AdblockIE uses a static list of sites originally gathered from pgl.yoyo. It won't block those sites (such as doubleclick.com) if you attempt to visit them directly, but another page you visit won't be able to pull ads or other content from a blacklisted site.
The approach works well enough, and will likely bring a welcome smile to IE users annoyed by ads. But while simple, AdblockIE lacks some of the updating and customization features in similar Firefox utilities, such as Adblock Plus. For one thing, AdblockIE doesn't automatically update its blacklist, which is currently about a year old. You can manually edit the blacklist.xml file in C:Program Filesaf0.netAdblockIE to add new sites, and an AdblockIE user has offered up an updated blacklist available for download. But either approach will take a little work on your part.
Likewise, there's no option to right-click a displayed ad and block it on the fly from within the browser, or to temporarily show ads. It's an all-or-nothing approach.
If you love IE but you're not so fond of Web ads, AdblockIE can get rid of most of the "Buy me!" online clutter. Firefox users can instead opt for the popular Adblock Plus add-on.