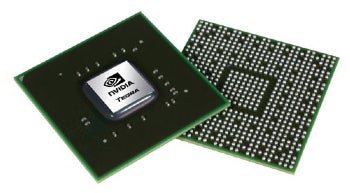 An Nvidia executive on Wednesday said smartphones with the company's low-power Tegra 2 chips will become available in the fourth quarter this year.
The launch of phones will come under a year after the mobile chips were officially announced, said Mike Rayfield, general manager for the mobile business unit at Nvidia, during a speech at the company's financial analyst day in Santa Clara, California, which was webcast.
Rayfield did not reveal the names of phone makers adopting Tegra 2 chips. However, he said that more than 50 original design manufacturers and device makersare building products around the chips.
Nvidia first said that it was developing low-power Tegra 2 chips for smartphones in December. A company spokesman, Ken Brown, on Wednesday said the company hadn't published specifications of the Tegra 2 chips for smartphones yet. However, the chips would "bring the complete Web to the smartphone space" while offering long battery life, Brown said.
Earlier this year Nvidia officially announced dual-core Tegra 2 chips for mobile devices with between 5- and 15-inch screens, including low-cost laptops and tablets. Nvidia said the chips would be four times faster than their predecessors. The first Tegra 2 tablets will reach the market in the third quarter this year, Rayfield said.
Known as a graphics card vendor, Nvidia brings advanced graphics to mobile devices such as smartphones and low-cost laptops with the low-power Tegra chips. Tegra 2 chips put an Arm-based processor core, a GeForce graphics core and other components on a single chip.
Tegra 2 succeeds the original Tegra chips that power devices including Microsoft's Zune HD and Samsung's M1.