The traditional war between Microsoft and Apple has always been about personal computers–more accurately operating systems–and which platform is superior. Despite the undying loyalty of Mac OS X fans, it is hard to argue with the fact that the Microsoft Windows operating system has about 18 times more market share. However, Apple has figured out a marketing truth that might enable it to gain some ground and claw its way from the living room to the board room after all.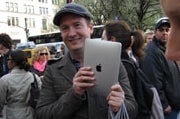 At one point, the dividing line between consumer gadget and business machine was carved in stone. There was a clear delineation between toys and tools. It has slowly eroded, though, as new technologies are embraced by consumers–who happen to be employees and business executives–and the corporate culture is forced to adapt to meet demand.
Whatever line in the sand may have still existed was swept away by the iPhone. Despite IT administrators, technical gurus, media pundits, and smartphone competitors describing the iPhone as more of a consumer toy than a business tool, the iPhone was so popular among consumers that its invasion of the business world was inevitable.
What Apple understands, and is capitalizing on with the iPad and iPhone, is that not all consumers are business professionals, but all business professionals are consumers. A product targeted at business professionals has, by default, a more limited audience than a product aimed at consumers.
The reason the iPad is somewhat revolutionary, and may beat out competitors like the HP Slate–once it arrives, is Apple's marketing strategy of taking a popular consumer device and adding business functionality rather than taking a business computer and trying to add entertainment.
Apple's approach also has the benefit of providing consistency of experience starting with young consumers. Kids can start off on an iPod Touch, then migrate to the iPhone once they are old enough to need a mobile phone, then take the next natural step to the tablet device that provides the same interface and experience they are used to.
That said, one of the key elements of Apple's success is also a character flaw that can hinder its success–especially in the business world. To achieve and maintain the user experience, Apple controls virtually every aspect of its products–from hardware and software, to distribution, and even third-party apps. Apple's proprietary nature and domineering business model work well in some areas, but are a handicap when it comes to integration with enterprise networks and applications.
The fact is, as great as the iPad might be, it won't replace notebooks or desktops in the enterprise. For what it's worth–neither will the HP Slate, but at least the Slate still runs the same operating system, and apps, and has the features and capabilities that business professionals expect from a notebook or desktop.
However, the iPad doesn't have to replace notebook computers to become a ubiquitous and invaluable tool. The tablet–at least the tablet as Apple has created it–is not a replacement for the laptop, it is its own unique device. Business professionals can keep their desktop or notebook computers, yet still have an iPad–which is capable of performing 90 percent of the same functions as the notebook, and provides even greater mobility and convenience.
The technology landscape has evolved–the notebook is the new desktop, and the iPad is the new notebook. More importantly, the technology model has evolved–consumers, who happen to be employees and executives, are driving technology decisions rather than IT administrators.
Tony Bradley is co-author of Unified Communications for Dummies. He tweets as @Tony_BradleyPCW. You can follow him on his Facebook page, or contact him by email at tony_bradley@pcworld.com.