Apple held its big iPhone OS 4.0 sneak peek event today, announcing 100 new user features for the next iteration of the iPhone operating system. The media event focused on seven of the features–most of which position the iPhone as both more capable, and more manageable in a business setting.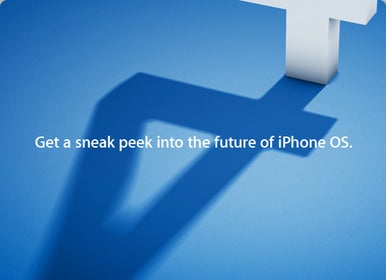 Many of the features in the upcoming iPhone OS 4.0 will be welcomed by all, but have little or no serious application for business professionals. Apple revealed that the new OS will have 5x digital zoom for the camera, a spell-check feature, customizable home and lock screen wallpaper (a feature already present in the iPad), and the ability to rotate photos among other things.
But, those are just the bells and whistles. The updates that fundamentally change the functionality of the iPhone are of much greater importance for IT administrators and business professionals. Specifically, multitasking, background VoIP, updates to e-mail capabilities, data protection, and remote iPhone management features will all contribute to make the iPhone a much stronger contender for smartphone dominance in the enterprise.
• Multitasking. The necessity of multitasking on a device with a screen as small as the iPhone can be debated–and has been. However, competing smartphones continue to highlight it as a weakness of the iPhone, and the iPad tablet–which uses the same iPhone OS–can certainly benefit from it. Double-clicking the iPhone home button will display the apps that are currently running. During the media event, Steve Jobs demonstrated as many as 12 apps running simultaneously.
• VoIP in the background. A combination of the multitasking functionality and changes that Apple has made to how audio is handled mean that apps like Skype can be actively engaged in a VoIP phone call while users continue to navigate through the device and activate other apps and functions. As more enterprises embrace VoIP solutions and implement unified communications, the ability of the iPhone to work with VoIP will be a key element in determining its success in the business world.
• E-mail updates. Aside from multitasking, this was the next biggest deal in my opinion. Apple is introducing a unified inbox with iPhone OS 4.0. That means that you can have multiple e-mail accounts and have them all displayed in a single inbox rather than having to hop back and forth switching between inboxes. That said, Apple also made changes to make it faster to switch between inboxes, and has added the ability to connect the iPhone with more than one Exchange Server account.
In addition, with iPhone OS 4.0 you can organize messages by thread to make e-mail conversations easier to follow, and Apple is opening up e-mail attachments to be able to open up in or interact with third-party apps.
• Data protection. Apple is improving the data protection capabilities of the iPhone–a critical consideration for businesses to consider in selecting a smartphone platform. With iPhone OS 4.0 all e-mail, and e-mail attachments can be encrypted and locked with PIN codes to prevent unauthorized access.
• Remote management. This will be the favorite of the IT administrators who have to wrangle and manage iPhones in their environments. Apple is adding new mobile device management features, including the ability to deploy and manage iPhones remotely. Apple is also cutting the cord, enabling IT admins to push custom business apps wirelessly over the air rather than requiring users to sync with iTunes.
It seems that I got three of my five predictions: multitasking, unified inbox, and cut the cord. But, I missed on file management and universal search. C'est la vie! I guess you have to take what you can get, and based on the implications of the new features demonstrated by Apple today it appears that RIM better gear up for a fight for smartphone dominance in the enterprise.
Don't get too excited just yet. It will be a while still before any of these features grace your iPhone or iPad. Apple released a beta of the iPhone OS 4.0 SDK for developers today, but the actual OS update isn't expected until this summer. Users who just purchased the Apple iPad tablet device will have to wait even longer–sometime this fall–to take advantage of the iPhone OS 4.0 features.
Tony Bradley is co-author of Unified Communications for Dummies . He tweets as @Tony_BradleyPCW . You can follow him on his Facebook page , or contact him by email at tony_bradley@pcworld.com .