Apple introduced the latest iteration of its iPhone operating system on Thursday, which will bring more than 100 new features for users. Apple didn't go into great detail about all the new features of iPhone OS 4.0, but the company did discuss some of the most prominent ones, including multitasking, new gaming features, an advertising platform, application folders, unified e-mail inbox, iBooks e-reading software, and some improvements to the iPhone's enterprise features.
It sounds like there are some nice additions, and of course Apple didn't deliver some hoped-for things like more voice commands and voice-to-text features, fre
e GPS navigation, and others. But that's to be expected with the launch of any new Apple product, since so many rumors circulate prior to Apple's official launch. So instead of running down a list of what I wish Apple had done with iPhone OS 4.0, here's a breakdown of some of the really nice additions to the iPhone user experience, as well as a few things I'm on the fence about.
The Good
iBooks
It's always good news when another e-reading application becomes available for iPhone users, and when iBooks debuted on the iPad I wondered how long it would take to bring this app to the iPhone. Amazon's kindle application is great, but there's nothing like having some choice. Besides, who can say no to a free, illustrated edition of Winnie the Pooh, which comes free with the iBooks application?
Wallpaper
Apple says iPhone OS 4.0 will let you use two different photos for background images: one on the lock screen and one on the home screen. This functionality may not be as extensive as the choices you have on Android, but it's still a nice feature addition. It's bad news for iPhone hackers though, since they can no longer use wallpapers as a way to prove they're using a legitimate jailbroken device.
Folders
Thanks to application folders, with iPhone OS 4.0 you'll be able to organize and expand the number of apps you have on your device at one time from a maximum of 180 to 2160.
All you have to do is group some applications together on your device, and the iPhone OS will automatically create a folder and give it a generic name like "Games" or "Social Networking." You will also have the option to rename the folders to anything you want.
Perisistent Wi-Fi
I'm not so sure how noticeable this feature will be for most users, but it's a nice addition. Whenever your iPhone goes to sleep it drops its Wi-Fi connection, but with persistent Wi-Fi your phone will stay connected to the Wi-Fi hotspot.
You probably won't notice any difference when you're at home using your own Wi-Fi, since the iPhone can switch from 3G to Wi-Fi pretty quickly. But if you happen to be using a Wi-Fi hotspot that requires a login (coffee shops, Airports, etc.) you won't have to sign back in every time your phone's screen turns off.
Game Center
Apple has come up with its own social gaming network for iPhone users called Game Center. You will be able to challenge your friends to a game, and Game Center will also feature automatic matchmaking, which allows you to play a game against strangers. Leaderboards will let you see your worldwide rank on a certain game, as well as an achievements board that let you compare how you're progressing through a game compared to your friends.
The Not-So-Great
5x Digital Zoom
iPhone OS 4.0 will finally bring zoom to the iPhone's camera, but it will be digital, as opposed to optical, zoom. This makes sense since optical zoom, which is far superior to digital zoom, would require new hardware. Optical zoom could also make the iPhone bulkier, which is something Apple would not want to do.
So digital zoom is better than nothing, but it's not great either. Digital zoom doesn't actually zoom at all, but merely takes the object you're photographing, crops it and then magnifies it digitally. This tends to produce a blurry image, especially when you use the maximum level of digital zoom. So don't expect any great shots with the iPhone's new camera feature.
Multitasking
On the whole, Apple's solution for multitasking on the iPhone sounds pretty good. Basically, Apple's answer is to restrict the types of applications that can use multitasking, and then restrict those multitasking apps t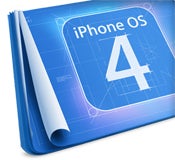 o the core services they need when running in the background. Pandora, for example, can only access the background audio service, and Skype will just leave your VoIP connection open. Apple says this solution will let iPhone apps take advantage of multitasking without sacrificing battery life.
The one thing I'm on the fence about, though, is how you'll be able to kill applications running in the background with iPhone OS 4.0. During the Q&A session following Apple's presentation, CEO Steve Jobs said the user wouldn't have to worry about killing applications because the operating system takes care of application management for you. I find it hard to believe that you wouldn't be given the power to stop an application from running on your own device, but Jobs did say that users wouldn't be getting a task manager app that would let you kill other applications.
Apple's multitasking outlook presents a problem for the user. I like using Skype on the iPhone, for example, but I also don't want to have it running in the background all day. It's simply a personal preference. There's got to be a way to stop these applications from running all the time in the background, but how easy will it be for users to figure out how to do it?
All around, iPhone OS 4.0 is a nice improvement to the iPhone. What did you think of Apple's latest iPhone OS? Are you excited about it or is this just an incremental improvement compared to other smartphone platforms?
Connect with Ian on Twitter (@ianpaul).