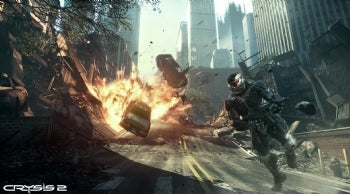 Will Crysis 2 be set 500 years in the future, in a world where the United Nations lords over extrasolar planets and human personas are digitally auto-saved at time of death to spinal hard drives? That's a definite nope, but the upcoming first-person shooter's lead writer once authored a book about as much–a book called Altered Carbon that went on to win the Philip K. Dick Award in 2003.
The author's name? Richard Morgan, a critically lauded science fiction author known for his Takeshi Kovacs novels (of which Altered Carbon is the first) and a new fantasy trilogy that'll see its second installment later this year.
In a new press brief released this morning, EA writes that "Morgan is working with [game developer] Crytek to bring his trademark visceral writing style to the project, which is his first entry into the video game medium." Morgan's apparently been hard at it for some time, too, because Crysis 2 is due out for Xbox 360, PS3, and PC this holiday season.
Crysis, those of you with computers capable of scaling its cliff-like processing requirements back in 2007 may recall, was a sandbox-style jungle-romping first-person shooter packed with peripatetic military firefights, physics-driven environmental plasticity, a mesh-weave nanosuit that conferred superhero-like powers, and–eventually–terrifying tentacular alien opponents that soared, Matrix-like, above flash-frozen tropical canopies.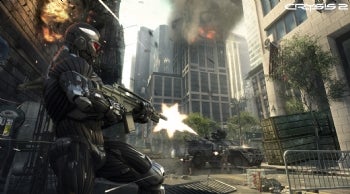 Crysis 2 moves things across the Pacific and overland to upstate New York, where said aliens are doing their best H.G. Wells impression in an all-out assault on the city.
"In New York, terrifying alien invaders stalk the streets and a nightmare plague strikes down the city's myriad inhabitants with brutal epidemic speed," reads the game description. "The city's systems are in chaos, its streets and skyline are smashed and in flaming ruin."
Enter you, the "one man" who'll "inherit [the] means to survive." Translation: Get ready to don the one suit even Barney Stinson couldn't afford.
EA describes Crysis 2's aliens as "the most challenging opponents ever seen in a first person shooter." Yeah, we've heard that before. Then again, Crytek was doing stuff with AI in Crysis no one else was three years ago…stuff developers still aren't. Crysis's enemies are miles smarter than the trip-trigger robots you square off with in arcade-style shooters like Modern Warfare 2.
Fingers crossed then–and critical piñata sticks poised–to put Crysis 2's enemies through their paces.
Morgan's take on the process?
"Video games are one of the only things in my life I would qualify as a complete addiction," said the author. "The medium has every bit the potential for exciting and emotionally charged storytelling as literature and film."
I'll raise a glass to that.
Follow us on Twitter (@game_on)