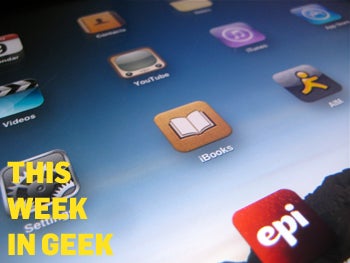 This week's geeky roundup features features news on the iPad jailbreak (one day after its release!), leaked Windows 7 Service Pack 1 screenshots, and a look at what we guessed the new iPhone OS would feature. Get your geek on:
David Ayala explains the iPad was jailbroken a mere day after it hit the market. You can find details on how the device was jailbroken, including a video of the process, in David's post. Read on…
Our iPad coverage continued this week when Alessondra Springmann takes you through a look inside Apple's new iPad only processor, the A4. The iFixit and Chipworks teardown offers a detailed view at the new chip, which you can check out here.
Earlier this week a beta of the first service pack for Windows 7 leaked online, leading to thousands of downloads via torrent sites. Information regarding the leak, including positive reports on installation speed can be found in my post. Learn more about the leak…
This week saw Apple reveal details on the upcoming fourth version of the iPhone OS. Nick Mediati looks back at previous predictions to see what Apple announce, what they didn't announce, and how it compared to our wish list. Did your desired feature make the cut? Come and share your iPhone wishes…
Your geeky update this week closes with news that Microsoft plan to release fixes for 25 Windows bugs next week. The fixes will mend issues found within Windows, Office and Exchange software. Get the full scoop here…
For your daily dose of geek be sure to follow the GeekTech team on Twitter and become a fan of the GeekTech blog on Facebook.