Microsoft is expected on Monday at 10 a.m. Pacific time to introduce two new slider phones codenamed Turtle and Pure during a special Microsoft event in San Francisco. The new feature phones are said to be the successors to the popular Sidekick line up, which were developed by Danger, a company that Microsoft acquired almost two years ago. Turtle and Pure rumors have been consistently popping up for about a year, and are yet another part of a rejuvenated Microsoft product lineup that already includes Windows 7, Windows Phone 7, the Bing search engine, and Microsoft Office 2010. So what exactly is expected at today's announcement? Here's what we (think we) know so far
What are these phones called?
The entire development project for these phones has been often referred to as "Project Pink." But the phones expected to be announced today are said to be called Turtle and Pure.
What will the hardware be like?
Don't expect any revolutions from these new devices. Just like the Sidekick, Turtle, and Pure will be slider phones with a physical keyboard, but sh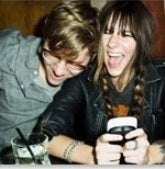 ould feature a touchscreen interface as well (something that Sidekick devices lacked). Turtle is rumored to have a 320 by 240 screen, while Pure's display will measure 480 by 320. Microsoft's Live Webcast page for Monday's event features one image of someone holding what many believe to be the Turtle handset expected to be announced today. The device on Microsoft's Website also looks very similar to images of Turtle uncovered by Gizmodo last fall.
Are Turtle and Pure 3G phones?
It's not clear whether these will be 3G devices, but the handsets are said to be focused on Web-based services, so 3G connectivity is likely.
What's the OS like?
Don't expect these devices to have the traditional Danger Sidekick OS. The new phones are rumored to have an operating system based on the Windows CE kernel, with a Microsoft Silverlight-based interface, according to Gizmodo.
What can these phones do?
The original Sidekick devices focused on messaging, but today's Project Pink announcement is believed to introduce a new focus on social networking services like Facebook, Twitter and MySpace. Microsoft's theme for Monday's announcement — "We're for sharing" — also suggests a big focus on social networking.
Will Turtle and Pure connect to Zune Marketplace?
The latest rumors say you will be able to use these devices to download content from the Zune Marketplace, but a recent report by CNET's Ina Fried suggests the handsets could be restricted to just the Zune music store.
Will the Pink Phones Support Microsoft Exchange?
The most recent Sidekick model, the Sidekick LX 3G, came with Microsoft Exchange Active Sync support, so it's possible Turtle and Pure will have the same functionality as well. But there have been no rumors about this either way.
How much storage will these devices have?
It's unknown how much storage Turtle and Pure will come with, but the handsets might feature microSD expansion slots.
On Saturday, SanDisk apparently let slip that its microSD cards would be compatible with Microsoft's Project Pink phones, according to PhoneScoop. It should be noted that PhoneScoop provides absolutely no proof or explanation as to how it obtained this information, so take this rumor with a huge grain of salt.
Which carrier will get these devices?
Even though T-Mobile has been carrying the Sidekick lineup for years, all signs point to Verizon being the carrier of choice for the Turtle and Pure devices.
Backing up that rumor is a purported inventory screenshot leaked to Phone Arena that shows two unnamed Microsoft phones in Verizon's catalog that are believed to be Turtle and Pure. The screenshot also shows that the devices were manufactured by Sharp, the same company that produced the Sidekick and said to be the Project Pink manufacturing partner.
Who are these phones for?
One look at Microsoft's Live Webcast page for today, and it's pretty obvious these phones are meant for teenagers and young adults in their early 20s.
How much will the devices cost?
It's not clear what the pricing will be like, but considering that people in Turtle and Pure's target market aren't likely to be able to afford expensive iPhone-like data fees, Microsoft's new devices should be relatively inexpensive.
What about Courier?
Microsoft's heavily rumored tablet device, Courier is not expected to be part of Monday's announcement. If you want to follow Monday's announcement from Microsoft, you can follow along on the company's Webcast page. Don't forget to check in with PCWorld following Microsoft's announcement for all the news, analysis, and community discussion you'll need to stay informed. Connect with Ian on Twitter (@ianpaul).