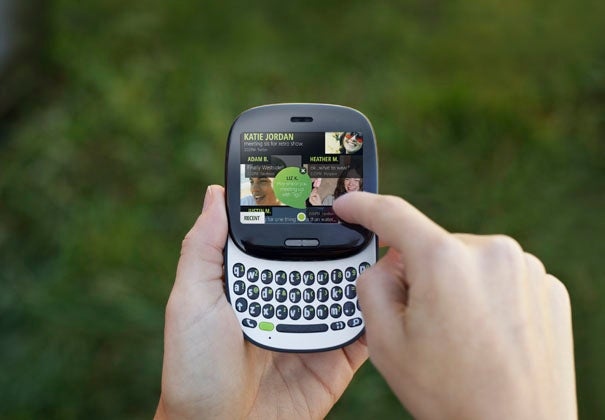 The smaller of the Microsoft's newest social networking phones, the Kin One (Verizon, pricing TBA) has a slick and intuitive user interface, but the hardware is mediocre and unattractive. Additionally, advanced users might be disappointed with some limitations within the operating system.
Decent, but Unattractive Hardware
The Kin One isn't the most stylish little thing: Short and squat, it looks a bit dated. That said, the Kin One does feel solid in hand and fits easily in a pants pocket. The display is a bit on the small side as is vertically-sliding keyboard. The keyboard's keys are spacious and boldly labeled, but they don't feel as comfortable as those on the Sidekick phones (the design team behind the Sidekick phones played a big part in the Kin One and Two's designs). I also noticed a bit of lag between what I typed and what actually appeared on the screen. I'll need to spend more time with the Kin One, however, to fully assess its keyboard.
I was impressed with the Kin One's 5-megapixel camera. I took a few snapshots at the launch event, which took place in a dimly lit nightclub, and was impressed with how powerful the flash was. Faces were nicely highlighted without being completely blown out. I can see the Kin One being an ideal companion for concerts as you can snap quality pictures and easily share them with your friends or social networks.
The photos are automatically geotagged and uploaded to the Kin Studio (more on that below), but there's no photo or video editing software on the phone. Additionally, video clips are automatically capped at one minute, which is a bit disappointing.
Kin OS: Pretty and Intuitive
While it's a bit overwhelming at first, Kin OS is visually-pleasing and incredibly easy to navigate. The main screen, called Loop, displays your selected friends' status updates and messages as well as your favorite RSS feeds in a colorful collage of text and images. Flick to the left, and you'll see a panel of all your applications; flick right, and you'll see your contacts.
I also liked how easy it was to share photos with your friends via the Kin "Spot." The Spot is a green circle that sits at the bottom of the user interface. If you want to share a photo, video or news story from your RSS feed, you simply drag and drop it into the Spot. You can then tap the Spot and decide whether you want to send it to your friends or upload it to one of your social networks.
Another highlight: The Kin One ships with the Zune HD media player for video and music playback. There's also an FM radio.
The OS was a bit sluggish while I was navigating through various menus, but this might be due to the fact that my test units were preproduction devices. I'll make a full assessment once I get my review unit.
Kin Studio: Useful, but Problematic
When you capture photos or videos on your Kin phone, they're automatically uploaded to the Kin server. You can then log into your Kin Studio account on your PC to view and share your media–no USB cables or microSD cards to hassle with and no tedious uploading procedures. This is an ideal feature for the non-tech-savvy audience Microsoft seems to be targeting with these phones.
But there's one disturbing problem with the Kin Studio: You can't delete photos off your phone without deleting them from the Kin Studio. In some ways, Microsoft's explanation for implementing this makes sense. If a user wants to delete, say, an incriminating photo from a bar the night before, they probably want it completely erased from existence. But if you're simply deleting photos to free up some storage on your phone, this is a big problem since the Kin One's memory is restricted to 4GB (no microSD support). Realistically, 4GB of memory really isn't enough to hold all of your photos, videos and music.
I also wish there was some sort of photo editing or video editing software built into the studio. To edit a clip or photo, you have to download it to your PC first, edit it in a third-party program, then re-upload to the Kin Studio to share with your friends.
Missing Key Features
Unfortunately, the Kin OS is missing some features that, in my opinion, are crucial for social networkers. First of all, there's no native calendar nor is there support for syncing your Outlook or Google calendars. If Kin's main goal is to connect people together, then why isn't there a way to create and share events via a social calendar? There's also no native IM client, which seems strange for a phone that's built for messaging. Lastly, Kin lacks support for uploading photos or videos to Twitter. You can upload videos to your Facebook or Myspace profiles, but forget about Twitter. Microsoft says that it might be adding these features in future over-the-air updates, but don't expect them at launch.
Also, if you're a heavy app user, you'll be disappointed to learn that there's no software development kit currently available for the Kin phones, nor is there an app store. For now, you're stuck with what's preloaded on the device.
Right now, it is hard to estimate how well the Kin One will do without a price attached to it. While it has some "smart" features, this isn't a smartphone. The Palm Pixi Plus, which is a full-featured smartphone, is currently available from Verizon for $30 (with a two-year contract). For the Kin One to succeed on the network, it should be similarly priced.