With the release of Microsoft Office 2010 impending, Google unveiled new features and functions in its cloud-based Google Docs. The changes don't leapfrog–or even fully catch up with–what Microsoft Office is capable of, but they do address some common complaints, and expand on perhaps the core competency of Google Docs–real-time collaboration online.
Setting up a standard Google Docs account is free, and provides cloud-based productivity applications to create documents, spreadsheets, presentations, and forms, as well as a folder for online file storage. Earlier this year, Google modified the Google Docs folder functionality to enable uploading of any file type.
Of course, Google doesn't want to settle for providing inferior cloud-based equivalents for consumers too broke or too cheap to afford the "real thing". Google is striving to compete directly against Microsoft and to convince more small and medium businesses–or even enterprises–that Google can provide a comprehensive office productivity, messaging, and collaboration platform that is accessible from anywhere–by virtue of being in the cloud–and is cost-effective compared with implementing similar functionality from Microsoft.
That is no small feat. Microsoft enjoys a comfortably dominant 90-plus percent of the office productivity suite market. It is indicative of Microsoft's ubiquitous role that competing software–including Google Docs, or OpenOffice.org–endeavor to import and export files in formats compatible with Microsoft. Basically, it's OK to provide an alternative office productivity solution, but if it can't interoperate with Microsoft Office its essentially useless.
Let's jump in and take a hands-on, detailed look at what Google has unveiled today. To begin with, let's look at what Google has done with the spreadsheet editor.
Spreadsheets
Jonathan Rochelle, group product manager for Google, noted in the Official Google Docs Blog "With the new spreadsheets editor, you'll see significant speed and performance improvements — spreadsheets load faster, are more responsive and scroll more seamlessly."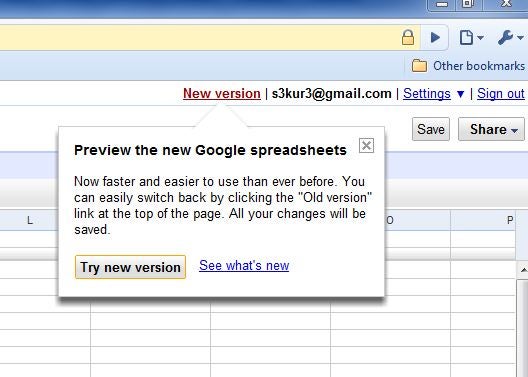 I logged in to my Google Docs account and began by starting a new spreadsheet doc. At the top right of the page, next to the links for settings or signing out, there is a link labeled "New Version". Click on that link and then select the "Try New Version" button to check out what's new with the spreadsheet tool.
I use the Google Docs spreadsheet more than any of the other Google Docs apps by far. I use it in a collaborative fashion with other PCWorld writers and, although we can each see the updates made by the others, the speed of the updates leaves a little to be desired and sometimes results in us typing over each other's cells.
Google has taken notice of the lag in real-time updates, and has made some significant improvements. It is probably related to the purchase of AppJet, A company created by a team of ex-Google employees that redefined what real-time really means. Bottom line, it's a lot easier to collaborate in real-time without the lag.
My favorite new feature of the spreadsheets, though, is the new Formula bar at the top. Previously there was no way to simply edit a cell. You basically had to type the whole thing over again even if you just wanted to correct a typo. Now, you can click on a cell and the contents will appear in the Formula bar at the top where you can do your editing.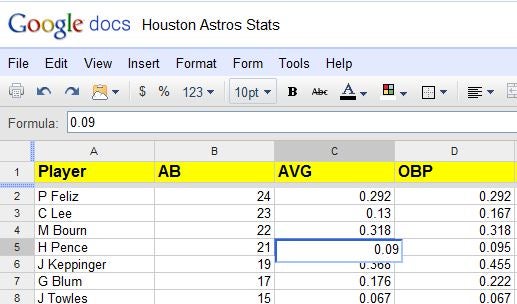 Google also added auto-complete to make repetitive entries more efficient, and you can now drag and drop columns to move them, and quicker navigation between spreadsheets. It is still eons behind Microsoft Excel in many ways, but it will suffice for most users' basic spreadsheet needs and the online, real-time collaboration features are a win for Google.
Documents
Just as with the spreadsheets, the new version is an opt-in toggle for the time being. Rather than a simple "New Version" link at the top of the page, though, to get to the changes in documents you have to go to the "Document Settings" page and select "New version of Google documents".
Unfortunately, Google is rolling out the new functionality over the next couple of days, and none of the Google Docs accounts I checked actually have this option available yet. But, once it's available the Documents functionality will contain a number of enhancements.
On the Official Google Docs Blog, Rochelle explains "We've brought the responsive, real-time editing experience you've come to expect from our spreadsheets over to documents, which means you can now see character-by-character changes as other collaborators make edits."
That alone is a huge step. As I said for spreadsheets, the online, real-time collaboration is actually one of the main elements of Google Docs that sets it apart from the traditional Microsoft Office experience and provides some additional value.
According to Rochelle, "The new technical foundation also helped us improve document formatting, which means better import/export fidelity, a revamped comment system, real margins and tab stops, and improved image layout within documents."
Drawings
With the changes rolled out today, Google is also introducing a new tool which brings yet another piece of the Microsoft Office suite to Google Docs. The new Google Drawings app lets you create flowcharts and diagrams similar to the way Microsoft Visio is commonly used.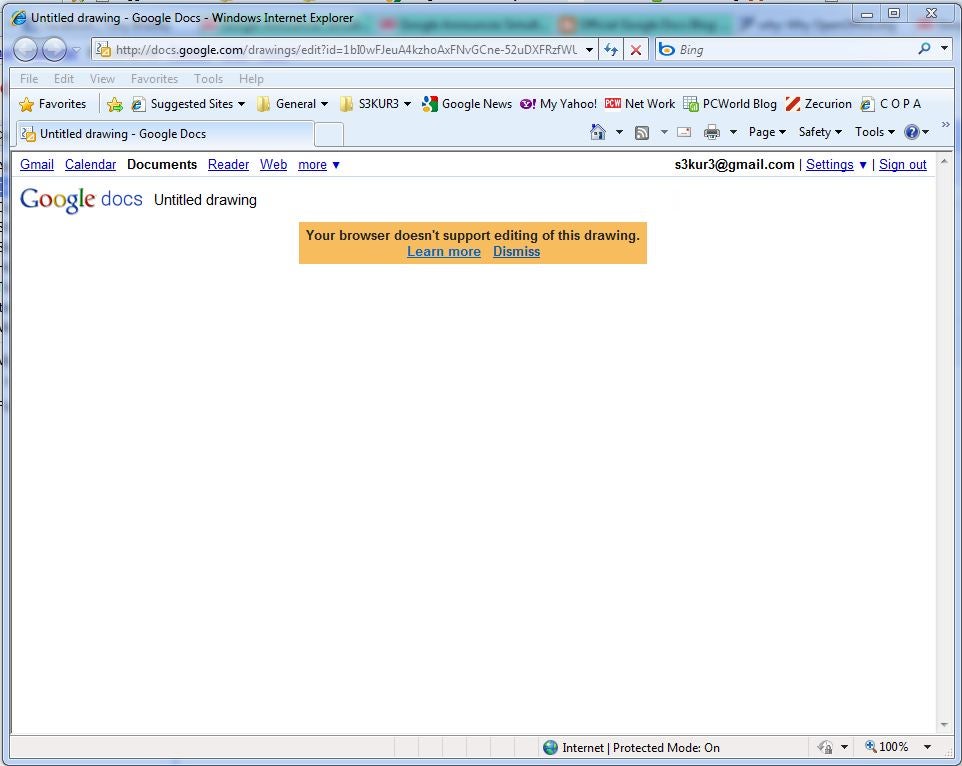 One of the caveats for using Google Drawings is that it won't work with existing versions of Internet Explorer. My attempt to launch Google Drawings with Internet Explorer 8 was met with an error screen letting me know that my browser doesn't support the app.
The changes being introduced by Google, and particularly the Google Drawings app itself, are based on HTML5 and require HTML5. The same reason that this functionality won't work in Internet Explorer 8 is also why the new editors won't work offline with Google Gears. Google has promised to bring back Google Gears functionality as soon as possible, though.
Basically, Google Drawings takes the drawing tool Google added to the other apps last year, expands the features and functionality, and turns it into a standalone application on its own. As with spreadsheets and documents, you can make and view changes to collaborate in real-time, and you can use the sidebar chat function to communicate with one another.
I started a new drawing, and invited another user to collaborate with me on it. I was impressed with the speed of the real-time updates as changes were made. I was able to converse using the sidebar chat to talk about the changes to be made to the drawing, and see those changes instantly as they were being made.
There are still a couple of pet peeves I have with Google Docs. First of all, I don't like that it seems to open a new tab or windows almost every time I click on something. Just trying to open and work with a doc I managed to somehow have ten different tabs open. The other thing is that once you are in a Google Docs app there doesn't appear to be a simple way to get back to the main Google Docs console or open or start a new doc.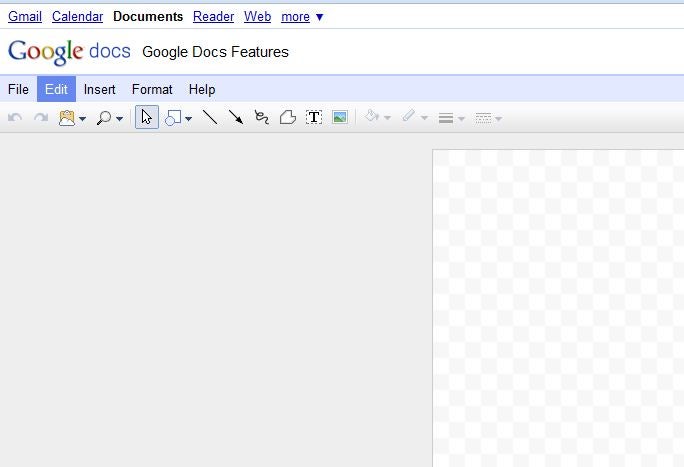 There is a lot to like about Google Docs, and the new features and functionality add a lot more. For hardcore documents, spreadsheets, presentations, or diagrams, the applications in the Google Docs portfolio do not compare to the functionality offered by their Microsoft Office counterparts, but Google Docs will suffice for most users, and it offers a superior platform for sharing and collaboration.
Tony Bradley is co-author of Unified Communications for Dummies . He tweets as @Tony_BradleyPCW . You can follow him on his Facebook page , or contact him by email at tony_bradley@pcworld.com .