The first smartphones based on Nvidia's low-power Tegra chips will soon be here, in the form of the new Kin devices announced by Microsoft earlier on Monday.
The first Tegra chips were introduced close to two years ago and have found their way into portable media players including Microsoft's Zune HD and Samsung's M1. They haven't yet appeared in smartphones, however, though that will change next month when Microsoft's Kin devices appear.
Device makers were initially cautious about putting Tegra in smartphones but are gaining confidence in the chips, said Nvidia spokesman Bruce Chan.
"It takes a while to take mobile designs to the market," he said. More Tegra smartphones will ship later this quarter, according to Chan, though he declined to say which device makers will introduce them.
Nvidia, which is best known for its graphics cards, launched Tegra to compete in the mobile market against companies like Qualcomm, Texas Instruments and Intel. Nvidia says Tegra can bring advanced graphics capabilities with the low power consumption needed by mobile phones. The Tegra chips include an Arm-based processor, a GeForce graphics core and other components.
The Kin One and the Kin Two, launched by Microsoft in San Francisco Monday morning, are touch-screen phones aimed at younger people who want quick access to social-networking services like Facebook and Twitter. The Kin One has a 5-megapixel camera and the Kin Two an 8-megapixel camera.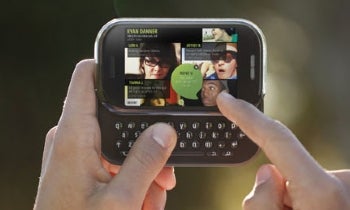 They both include Nvidia's Tegra APX 2600 chip for a high-quality multimedia experience, including 720p high-definition video playback and recording, Chan said.
The APX 2600 is starting to age, however, and smartphones based on the next-generation Tegra 2 should be out by the end of the year. Just last week, an Nvidia executive said the first Tegra 2 smartphones would start shipping in the fourth quarter.
Nvidia officials have said Tegra 2 chips are close to four times faster than their predecessors and will be able to play 1080p high-def video. By the end of the year device makers will be offering phones based on both generations of Tegra chips, Chan said.
Tegra 2 is also targeted at tablets–larger devices with screens between 5 inches and 15 inches.
Nvidia is entering a crowded market for smartphone chips and will be up against more established players like Qualcomm and TI, who also offer chips based on Arm designs, said Nathan Brookwood, principal analyst at Insight 64.
Tegra's strong graphics capabilities could be a standout feature for device makers, he said. There is a growing demand for rich-media applications on mobile devices, and the second-generation Tegra chips will handle full HD content, he noted.
Nvidia is also competing with Intel, another upstart in the mobile-phone market, which is due to start shipping its Moorestown smartphone chip later this year. Intel has already shown an LG Electronics GW990 smartphone based on Moorestown.
But Nvidia has an edge because most smartphones today use Arm-based chips, while Intel has to convince device makers to use its x86 designs, Brookwood said.
Though some users might wait for Tegra 2 devices to hit the market, Nvidia had to start somewhere to build confidence around the chip design, Brookwood said.
"There's always going to be something better coming in a year," Brookwood said. "If you decide to wait for the next big thing, you will be waiting forever."