Feature theft is a grand tradition in the browser wars, and with Apple's approval of Opera Mini for the iPhone, the stage is now set for some good old-fashioned cribbing. Neither Opera Mini nor Safari are the perfect mobile Web browser, but combining the two could make the complete package. Here are a few features Opera Mini for iPhone should "borrow" from Safari, and vice versa.
Safari's "Plus" Button: Safari is not a feature-rich browser, but it does hide two useful tasks behind a plus-shaped icon. From here, you can either mail a Web page or add it to the iPhone's home screen as an icon. Both features would be welcome on Opera Mini.
Opera Mini's Find in Page: Clicking on the tool icon in Opera Mini brings up this option, which allows you to type in text and seek it out on the currently open page. This is a no-brainer that every browser should have, mobile and otherwise.
Safari's Pinch-to-Zoom: Although Safari is a bit better at displaying text-heavy pages from a zoomed-out view, the real issue with Opera Mini is that you can't control the amount of zoom on a Web page. You're either all the way in, or at a bird's eye view, where sites like the New York Times are illegible.
Opera Mini's Image Settings: Safari is unlikely to get Opera Mini's speed-boosting method of compressing Web pages on its own servers, but it could at least allow users to toggle images or adjust their quality. Those options alone would help out in 2G coverage.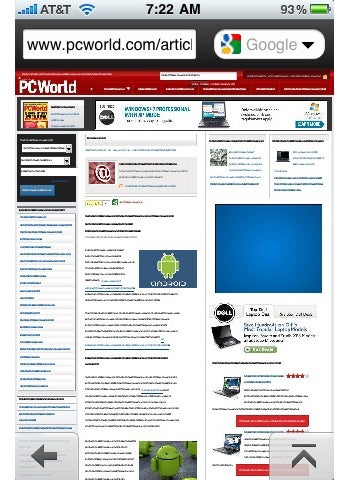 Safari's Tap the Top: Ever read down a long Web page and find yourself laboriously scrolling back up to the address bar? In iPhone Safari, you can skip this step by tapping the top of the screen. It's a neat iPhone trick that Opera Mini should try to mimic.
Opera Mini's Speed Dial: Sure, you don't need to see a grid of favorite Web sites when opening a new browser window, but it's hard to go back once you've started using this type of feature. That's why the desktop versions of Opera, Chrome, and Internet Explorer have some form of quick links, and why Safari for iPhone should too.