Feature phones still outnumber smartphones by a significant margin, but the gap is closing as smartphones become not only mainstream–but indispensible. A new survey from cloud computing business phone system provider RingCentral illustrates just how much business professionals rely on their smartphones.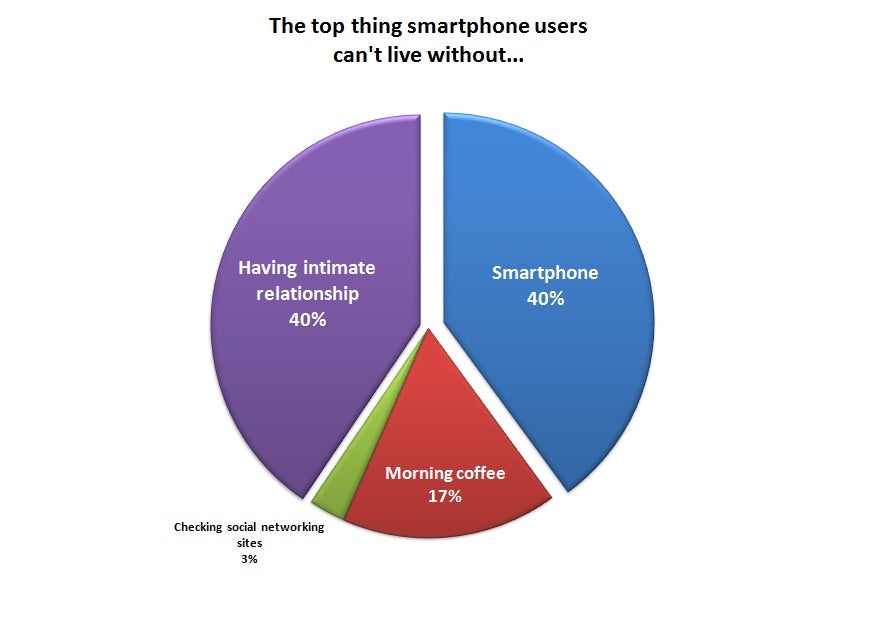 "This survey demonstrates the critical role smartphones play in business. The passion business professionals have for these devices reflects a major shift in the way we work, and the new reality is that businesses do not have to choose between mobility and professionalism," said Vlad Shmunis, CEO of RingCentral.
The survey has a variety of interesting–possibly even alarming results. For example, only 17 percent ranked their morning cup of coffee higher than the smartphone. Even more astonishing is the fact that smartphones tied with intimate relationships at 40 percent as the thing that business professionals can't live without the most.
Think about that for a second. Business professionals are as dependent on their BlackBerry, Droid, or iPhone as they are on their spouse. Put another way, if forced to choose between the two, 40 percent of business professionals might have a difficult time deciding.
Other key findings from the survey include:
— The majority (79 percent) of respondents cite the smartphone as the phone they used the most to conduct business, as compared to an office phone or home phone.
— Smartphones are also encroaching on computers as well, with 34 percent of respondents using the smartphone more than the computer for business. In fact, seven percent don't even take their laptop when they travel for business if they have their smartphone.
According to the survey, the smartphone is the focal point of communications for business professionals. Not only do nearly four out of five respondents use the smartphone as their primary business phone, but almost half rely on the smartphone for two-thirds or more of all phone communications.
The smartphone won't ever replace the PC, but it can certainly serve as an adequate substitute when traveling. Essentially, the smartphone is a complete computing environment in a handheld form factor. Like seven percent of the respondents, I have left my laptop at home when traveling for short business trips because my smartphone can handle e-mail and Web surfing, as well as Facebook and Twitter. I wouldn't write a book on it, but it serves the purpose without the extra effort at the airport TSA security checkpoint, or the need to drag an extra carryon bag around with me.
The biggest handicap for smartphones as mobile computing platforms is that micro form factor. It is a tremendous benefit for convenience and portability, but the tradeoff is a tiny keyboard and miniature display that make any "real" work–beyond basically checking e-mail or a quick chat session via instant messaging–impractical.
Tablet devices like the Apple iPad and the upcoming HP Slate–as well as a slew of other tablet devices hitting the street this year–fill that gap some. They combine convenience and portability closer to the smartphone, with size and productivity more on par with a traditional notebook.
Still, the smartphone is the thing that is with business professionals 24/7. Whether they are at the office, at the beach, out to lunch, watching a baseball game, or stuck in traffic, the smartphone is almost always there. Even as tablets challenge notebooks for mobile business computing dominance, the smartphone will remain a critical and indispensible business tool.
Tony Bradley is co-author of Unified Communications for Dummies . He tweets as @Tony_BradleyPCW . You can follow him on his Facebook page , or contact him by email at tony_bradley@pcworld.com .