Hoping Apple's new MacBook Pro updates might finally be able to chew through GPU-pummeling games like Crysis, Battlefield Bad Company 2, or Mass Effect 2? Keep on hoping for a better future model.
In a move that says "still battling thermal issues," Apple introduced a relatively tepid graphics processor update in its new MacBook Pro series today, bumping the former lightweight Nvidia 9600M GT up to an equally lightweight Nvidia 330M GT.
The net performance difference? Around 1,000 points in 3DMark06, the rough real-world equivalent of a few frames per second in your average GPU-intensive video game. That's assuming standard manufacturer clocks, of course. Apple actually under-clocked the 9600M GT, and it's impossible to say (yet) whether they've done the same with the 330M.
Okay, I know. The MacBook Pro in any of its iterations isn't a high-end games machine. True enough, but Apple always sells these things with clever little performance charts touting simplified multipliers to lure you into thinking that, as far as games go, they're a whole lot faster.
For instance, Apple's new MacBook Pro product performance page boasts a "13-inch MacBook Pro Graphics Performance" chart that says it's "Up to 1.8x faster than previous-generation 13-inch MacBook Pro," listing ancient (in game years) standbys like Doom 3, Call of Duty 4, Unreal Tournament 2004, and Quake 4, each with simplistic multipliers like '1.3x' or '1.8x'. (To be fair, the 13-inch MacBook Pro actually uses an even slower 320M.)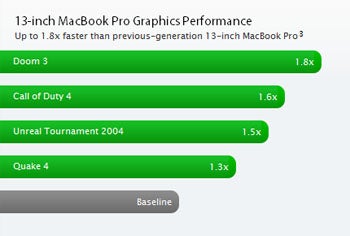 Still playing Doom 3? Call of Duty 4? Unreal Tournament 2004? Quake 4? Neither am I. And besides, if you're a longtime PC gamer like me, you probably want to know how it handles in Boot Camp anyway. Anyone benching these things as gaming systems needs to run those numbers, not just the Mac-side ones, too.
That said, the 1,000-point 3DMark06 spread between the 9600M and 330M is based on notebook-relative numbers aggregated in an apples-to-slightly-different-apples matrix. Still, speaking from personal experience spec'ing MBPs for gaming over the years, those numbers are nearer the mark than not.
Before all you Apple wonks launch a stream of syntactical IEDs, my game-related griping doesn't reflect on Apple as a company or the MacBook Pros as laptops in the broader (read: typical usage) sense. The i7 Intel processor updates should offer notable improvements in CPU-intensive games (though mostly real-time strategy titles and less first-person shooter stuff). The auto-switching GPU feature–apparently Apple-tailored, not Nvidia-designed–should bolster battery life, which if Apple's claims of 10 hours per charge prove out, would be unprecedented for a mid- to high-end notebook. And all that aside, nothing in my opinion touches the MacBook series in terms of its aluminum unibody elegance, trackpad touch-articulation and gesture features, or OS X itself in terms of the operating system's stability and design ease-of-use.
But as serious gaming machines, OS X-side or otherwise, the MacBook Pros are still big on GPU-related compromises. Wait for the final numbers from our hardware guys (and Macworld's) to be absolutely certain, but if you're looking for a serious gaming laptop that can run recent PC games in Boot Camp with desirable detail settings at respectable frame rates, you'll probably want to pass on Apple's latest "Pro" family offerings.
Follow us on Twitter (@game_on)