Quick Clean provides a simple way to clean junk files from your PC. It doesn't go beyond the basics, and its core merely accesses a built-in Windows utility. It offers little functionality beyond that found in Windows. Still, though, it's free, it's easy, and it cleans out your junk, so is certainly useful.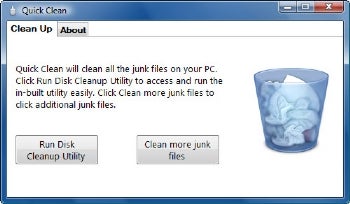 Launch the program, and you have two options: "Run Disk Cleanup Utility," and "Clean more junk files." Clicking "Run Disk Cleanup Utility" does more than simply launch Windows' built-in utility for cleaning up disk space, which cleans downloaded program files, temporary Internet files, a variety of temporary files, and more. You can easily get to the built-in utility without having to use Quick Clean, by going to the Control Panel, clicking System & Maintenance, then clicking "Free up disk space" under the Administrative Tools section.
Quick Clean does add a bit more than the extra UI for the built-in Disk Cleanup. Clicking "Clean more junk files" gets rid of a variety of files that the built-in Windows disk cleaner doesn't handle, such as *.nch, and *.?~? files.
Do you need this program? If you want to get rid of some junk files that Windows' built-in disk cleaner won't touch, it's worth the download. Otherwise, you can do the same thing yourself with Windows' built-in cleaning utility. An even better bet is CCleaner, a freebie which cleans out more file types, including ones that many common applications leave behind.
Note: As with all programs of this sort, it's a good idea to create a system restore point before using it.