Rumors are flying and speculation is intensifying that Google will join the tablet fray with some sort of Android or Chrome OS-based tablet device to compete with Apple's iPad. The rumors have existed since the official unveiling of the iPad, however the actual launch of the iPad has started them swirling again.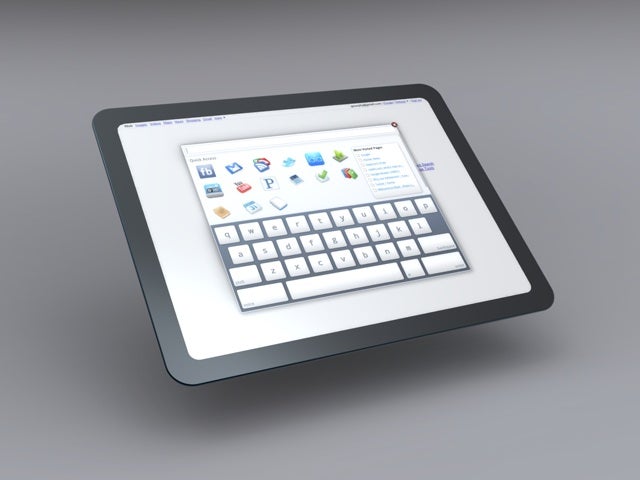 While there is a diverse collection of tablet devices hitting the market this year, many of them will fade as quickly as they emerge. Google is one of a handful of companies capable of delivering a device that can compete with the innovation and user experience of the iPad, while possibly delivering more business functionality akin to what we expect from the HP Slate.
The New York Times reported on April 12 that "Eric E. Schmidt, chief executive of Google, told friends at a recent party in Los Angeles about the new device, which would exclusively run the Android operating system."
This tidbit was accompanied by anonymous sources claiming "the company had been experimenting in "stealth mode" with a few publishers to explore delivery of books, magazines and other content on a tablet."
The concept of an Android-based tablet is already a moot point. The Dell Mini 5 tablet, or "Streak", is built on the Android OS, and HP is rumored to be working on a smaller version of the upcoming Slate tablet PC based on Android. The real question is simply whether or not Google itself will enter the fray and create a Google-branded device.
My PCWorld peer JR Raphael has his doubts–pointing out the specific use of words like "exploring" and "experimenting" in describing Google's current tablet device efforts. "Despite some bloggers' tendencies to fill in the blanks with big words, there's no indication that this is a done deal, let alone something that's likely to occur at any moment."
Raphael makes a valid point. However, speaking on the initial Google tablet rumors, I wrote at the beginning of February "Google isn't Apple, but next to Apple, Google is arguably the most-qualified to launch a tablet device capable of being a game changer. One thing that Apple and Google have in common is that they tend to think outside of the mainstream and are capable of creating paradigm-shifting innovation."
Another thing Apple and Google have in common is an intense rivalry and an apparently burning desire to compete head-to-head in every possible market. Apple just unveiled its plans for iAd, a mobile advertising platform connected to the iPhone–a direct affront on Google's bread and butter industry. It only makes sense that Google would take its "iPhone killer" Nexus One initiative to the next level and deliver an Android-based "iPad killer" as well.
The tablet devices already available, announced, or rumored come in a range of sizes and capabilities that blur the lines between e-readers with apps, smartphones on steroids, and notebooks with the keyboard removed and a touchscreen interface. The nascent tablet market still defies any specific definition of what is or isn't a tablet.
It is only speculation at this point, but it seems more or less like a foregone conclusion that Google will want to take advantage of the exploding tablet market as well. Google is in a unique position to learn from its own experience gained from the launch of the Nexus One, and also to learn from Apple's launch of the iPad.
Combining those lessons learned could yield a slick and formidable tablet to compete with the iPad. If Google includes support for Adobe Flash, a camera or two, and maybe a USB port or SD memory card slot, it can create a device that has all of the benefits of the iPad while also delivering everything the iPad isn't.
Tony Bradley is co-author of Unified Communications for Dummies . He tweets as @Tony_BradleyPCW . You can follow him on his Facebook page , or contact him by email at tony_bradley@pcworld.com .