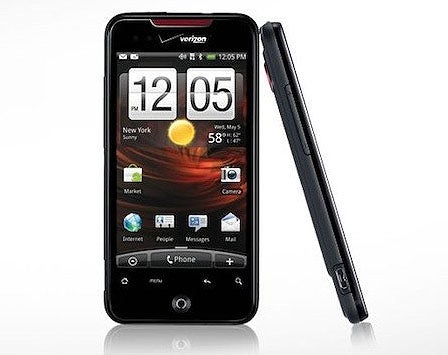 After months of leaked specs, photos and rumors, the HTC Droid Incredible will officially come to Verizon on April 29 for $200 with a two-year contract. Not to be confused with the Motorola Droid and the HTC Droid Eris, also both on Verizon, the Droid Incredible runs Android 2.1 with HTC's updated Sense user interface. And with a 3.7-inch display WVGA AMOLED display, slim design and 1GHz Snapdragon processor, the Droid Incredible might make some Droid owners envious.
Design-wise, the Droid Incredible is pretty similar to the Nexus One, but it is essentially a CDMA version of the HTC Desire, which launched last February in Barcelona, Spain. The Droid Incredible has an 8-megapixel camera (as opposed to the Nexus One and Desire's 5-megapixel shooters). The Droid Incredible also has a strange "topographic" battery cover.
One difference from the Nexus One is that the Droid Incredible has an optical mouse as opposed to a trackball. Like RIM BlackBerrys, HTC seems to be making a shift from trackball to optical (both the HTC Desire and Legend sport an optical mouse).
As mentioned earlier, the Droid Incredible will run HTC's updated Sense user interface over Android 2.1. When I did a hands-on of the HTC Desire, I noted that even though the Desire has the same display as the Nexus One, it somehow looks more brilliant because HTC Sense is just so visually pleasing.
The revamped Sense interface offers some useful new functions for easy navigation. My favorite feature, called Leap, is an elegant way of handling multitasking. Pinch anywhere on the homescreen, and you'll jump to seven thumbnail versions of your open pages. From there, you can go to any of those open applications or close out of one.
If you were holding out for a Verizon-compatible Nexus One, you might consider the Droid Incredible instead: It has stronger specs, unique hardware and a better user interface. And until the HTC EVO 4G comes out this spring, the HTC Droid Incredible might just be the best Android phone out there. But can it compete with the upcoming iPhone 4G? We'll just have to wait until summer.
Check back next week for a full review of the Droid Incredible.