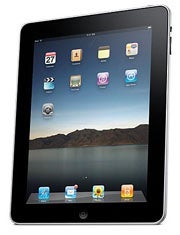 For every flaw in Apple's iPad, there's a fix just waiting to be found.
Now, I'm not talking about problems like those Wi-Fi woes that plagued people during the iPad's early days; Apple itself offered up a solution there. I'm talking about the iPad's most central limitations — the common functions that, for whatever reason, Apple decided not to address.
You see, while Apple's iPad is adept at performing certain advanced tasks — things like streaming video, for example, or making salsa — it leaves you out in the cold when it comes to others.
One of the most common complaints: The iPad doesn't connect to much, and that makes printing a serious challenge.
But fear not, Apple fanatics: The answer has arrived.
Apple's iPad: The Printing Fix
The good folks at The Form Group, an Ohio-based visual design firm, have come up with a fantastic workaround that lets you print directly from your iPad. No major modifications are needed, and you'll be up and running in minutes.
Prepare yourself — this is some seriously high-tech stuff.
(View the full-sized iPad printing hack here.)
If that isn't magical and revolutionary, I don't know what is.
JR Raphael created the equally magical and revolutionary iPad Decision-Making Flowchart. You can find him on Facebook: facebook.com/The.JR.Raphael