Twitter's growth has dominated the news as numbers, charts and graphs pour in by the truckload. With so much noise on so many different blogs, it's impossible to condense this week's chatter from the Chirp conference into 140 digestible characters.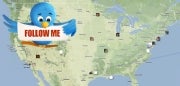 So here's a quick and dirty rundown of stats, evidence of Twitter's explosive popularity and, perhaps, a sign that the micro-blogging site may be getting too big for its britches…
75 percent of traffic is from its API. This means most Twitter users crawl in via third-party developers (think apps). Ironically, Twitter just flipped the bird at these very people by releasing an "official" Twitter app. With another "official" Twitter app for Android coming down the line, even more developers are apt to get red in the face.
56 percent of Twitterers have only used the website to belch updates.
There are approximately 100,000 registered Twitter apps — up from 50,000 in December 2009. These range from desktop to Web to mobile. For you Apple lovers out there, here are a few iPhone apps to get you started (and likely confused).
The Twitter app for BlackBerry accounted for 7 to 8 percent of new signups, or 100,000 new members in 3 days.
A New York Times article gets tweeted every 4 seconds.
60 percent of new accounts are outside the US, indicative of burgeoning international popularity.
Twitter's servers handle 3 billion calls per day.
There are 30,000 updates, timeline requests and searches per second.
With 19 billion searches per month — or 600 million per day — Twitter is actually besting Yahoo and Bing search engines, if you play around with comScore's math.
Twitter has 105,779,710 registered users, up more than 1,500% from a year ago.
300,000 new users sign up every day.
180 million unique visitors drop by per month.
Twitter now has 175 employees, up from 25 a year ago.
There are now 55 million tweets per day — up from 50 million per day in February, all of which are to be archived in the Library of Congress and tracked (mercilessly) by Google.
When dishing promoted tweets — Twitter's quest for ad revenue — there will be a 50/50 proceeds split. As of yet, there is no word on how much promoted tweets will cost.