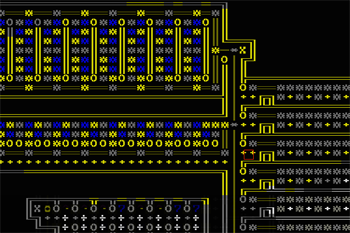 Dwarf Fortress is similar to many "God Games" in which the player assumes the role of an omnipotent being concerned with the care of a group of virtual followers. In Dwarf Fortress, the dwarves are in need of an underground fortress to call their own. Much like other games in the genre, Dwarf Fortress also tasks the player with guiding the dwarfs through a series of hazards, including opposing factions, harsh winters, and the occasional collapsing roof.
However, instead of instructing the dwarfs to create a home, dwarves under the command of one player, "Jong89," have recently put the finishing touches on a working digital computer. The construction spanned 35 in-game years, and was a monumental undertaking, so to speak. The computer consists of "672 pumps, 2000 logs, 8500 mechanisms and thousands of other assort bits and knobs like doors and rock blocks."
Though the computer is fully functional, Jong89 describes the performance as "really lousy." In this case, "lousy" is a relative term, considering the computer was constructed entirely inside a game world, but it can safely be assumed it's not going to run Crysis very well. It's not known how the dwarfs feel about living inside a working computer, as they could not be reached for comment at the time of writing.
Follow GeekTech on Twitter or Facebook.