Jing (free) is an interesting app that definitely fills a void in the marketplace. It takes the form of a sun-shaped icon with three spires. The lower left one lets you capture anything on your screen. The middle one looks at your capture history, and the right one pulls up options. It's the capture spire that's most fascinating about Jing.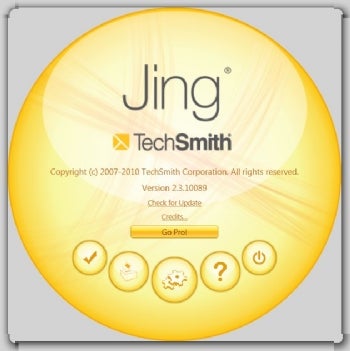 Capture anything on your screen as a static image or a movie, then save it or store it on TechSmith's free 2 GB of server space (hosted at Screencast.com). If you choose to store it, send the link to anyone and everyone. There's also a 2 GB bandwidth limit, so be judicious about letting your link get spread around too much.
Jing is designed to share images and movies with people quickly and easily while chatting or e-mailing, to help you get a point across. It's great for tech support or working remotely.
One caveat is that it's not obvious that the captured image can be embedded somewhere as just an image. This "embed button" is not on by default and must be enabled in the preferences. After that, you can embed the image or video with the buttons provided for popular social networking sites, or simply copy the code to the clipboard. If you choose to share a link instead, the free version of Jing shows that image with a couple of ads for Jing and Screencast around it. This is useful in IM conversations and social networking, but not as useful in a forum environment.
Using Jing to record a video screenshot is simple and straightforward. The resulting video (of five minutes or less) can be saved in SWF format (a Flash format which can be read by any browser with Flash installed), or stored on Screencast. Sharing the link to the stored version pulls up a new window with a Flash video on it. This video can be watched on this screen or embedded. Either way, there's a five-second ad at the end for Jing.
The alternative Jing Pro ($15/year) removes the ads from both the screenshots and video. Jing Pro also does high-def video in a more portable MPEG-4 format, and allows YouTube posting, two bits that I wish were included in the free product. (Also, having to re-pay for the app every year is a drag. Why not make it a one-time fee?)
But as for the free version of Jing, it's great for simple screenshot- and screen-movie sharing, without a lot of versatility beyond that. The best use of it would be to explain how to do a computer process to someone remotely, or quickly share reference graphics back and forth. It's nice that the recipient doesn't have to be registered with Jing, as it doesn't use its own social network or chat service. Just paste the link or embed it wherever and go.