At a Glance
Expert's Rating
Pros
Strong performance
Generous storage capacity
Our Verdict
The MSI Wind 12 U230 offers a roomy screen in a portable package, with strong performance but fleeting battery life.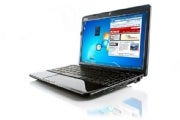 The MSI Wind12 U230 ($430, as of April 16, 2010) offers the performance of an ultraportable in the chassis of a netbook. But poor battery life turns a strong contender into a lame duck.
Weighing 3.3 pounds and equipped with a 12-inch screen, MSI's Wind12 U230 is large for a netbook. It runs on a 1.6GHz Athlon Neo X2 dual core processor, carries 2GB of RAM, has a spacious 320GB hard drive, and uses Windows 7 Home Premium. It posted a mark of 56 in our WorldBench 6 test suite, much superior to the spate of scores in the mid-30s we're used to seeing netbooks earn. (For example, the reigning netbook king, the Toshiba Mini NB205-N310 ambled to a mark of 36.) Still, it isn't in the same league with ultraportables in performance. (At the top of the ultraportable heap currently is the overclocked Alienware M11x which zoomed to a score of 77.
The Wind12 U230 delivers aesthetically, too. Its simple, glossy black shell gives an understated elegance–but also serves as a fingerprint magnet. The netbook has a glossy 12.1-inch screen with an HD-friendly resolution of 1366 by 768, though its display quality is a mixed bag.
Viewing angles are fine, and the display is glare-free under typical fluorescent lighting, but outdoor viewing is not an option. Though colors sometimes looked muted, reproduction on the whole was good. I noticed a fair amount of motion blurring during video playback, and streaming performance was lackluster–but par for the course for a netbook.
Audio performance was middling, too, with tinny media playback. The machine does get suitably loud, but its sound quality dips from satisfactory to jarring at higher decibels. The performance of the 1.3-megapixel Webcam is also less than stellar; test video footage I shot tended to look rather grainy.
One benefit of being at the larger end of the netbook spectrum is having room for a comfortable keyboard. The Wind12 U230's keys are wide and spacious, with very little travel time on button presses, which makes for mistake-free typing. Though it lacks specific media keys, the netbook provides generic volume control and accessory toggling via function-key combinations.
The touchpad, however, though smooth and suitably responsive, was disappointing. Its small, stiff buttons are set flush with the chassis, and I often mashed a finger against the netbook's frame while trying to mouse abou. Moreover, the touchpad lacks scrollbar functionality–and relying on a Web page's scrollbar or the arrow keys for navigation can be maddening at lower resolutions.
The Wind12 U230's connectivity options are solid but unspectacular: an HDMI port, three USB ports, a four-in-one card reader, a gigabit ethernet port, and a legacy VGA port. You also get Bluetooth, and 802.11b/g/n wireless.
The headphone and microphone jacks appear on the right side of the machine, out of the way of peripherals and cables that might be dangling in the area. An integrated 3G modem is an option, and the (modemless) model I reviewed included a vestigial function key.
MSI's documentation consists of the standard complement of driver and OS discs, along with a comprehensive quick-start guide. The software bundle consists primarily of Webcam companion apps, whose utility will undoubtedly vary from user to user. Of interest to parents is Kido'z, a walled-garden browser that offers heavy parental controls and monitoring, plus access to kid-friendly sites. Some of the more comprehensive tools are locked in a subscription package.
The Wind12 U230 has a lot to like, but its battery life–3 hours, 48 minutes in our tests–is a major drawback. The average battery life for netbooks is about 7 hours, and even the Alienware M11x ultraportable ran for 7.5 hours. It's unfortunate, considering the Wind12 U230's strong general performance and portable design. But being mobile means not being tethered to a power outlet; and in the configuration I tested, the Wind12 U230 lacked staying power.