Papercraft is the art of assembling paper models cut out from a sheet of paper and folded together. Unlike Origami, what you're left with is usually polygonal rather than representative in nature. Remember assembling cardboard cut-outs as a kid? Tab A goes to Slot B. Pepakura Designer ($38, free feature-limited demo) embodies that concept, and what it does is creates or imports 3D objects and makes foldable objects out of them that can be printed and assembled.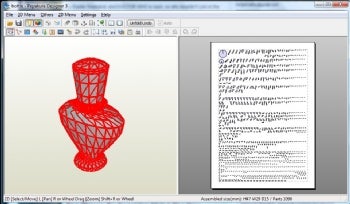 Obviously, the really technical 3D objects aren't going to be practical for printing and assembling, unless you're a masochist–so the simpler, the better. Although it took some digging to find something this old-fashioned, I found an Ascii stereolithography (SLA) file that defines a primitive 3D object. Pepakura Designer successfully imported a vase and made an extremely complex papercraft out of it.
Pepakura Designer ostensibly supports 3D objects from many of the most popular 3D designing apps, such as 3D Studio and Lightwave, and even Google Earth objects. However, I tried a KMZ Google Earth object, but Pepakura Designer wouldn't even open it. The developer said that Google SketchUp version 6.0 or 7.0 works best. I also tried 3D Studio files and STL files, and both imported fine. Keep in mind that even a low polygon count model may be too much for papercraft. Simple is better.
Pepakura Designer comes with a few sample files of cubes and such, which are excellent for printing in color and testing yourself. The app is great at turning simple shapes into something that can be printed and folded into your very own papercraft model. Your best bet is to either draw the object in Pepakura Designer itself using its built-in tools, or find a way to create an STL file in another app, and import that into Pepakura. John Burkardt, formerly of Florida State University, maintains a Web site which lists a bunch of files in this format. However you create your object, Pepakura Designer will break it down for you. Check it out.
Note: The demo for Pepakura Designer prevents any saving and exporting of files. The full version costs $38.